Remembering Cathy Topham.
January 25, 2017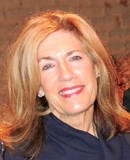 As a long-time community leader and volunteer, Cathy worked tirelessly to help parents and caregivers create a safe world for their children. She volunteered two decades at the San Francisco Child Abuse Prevention Center's TALK Line, a 24/7 phone support line for parents in-crisis. Cathy deeply understood what families needed and the importance of listening and simply being there in times of crisis and joy. She was the person to whom everyone went — stabilizing the lives of children and providing safety and acceptance to parents. She was the helping hand and the supportive voice for so many struggling families in our community. Cathy also co-lead the Prevention Center's board of directors for many years, helping to steer the organization forward during a critical point in its history. Under her guidance, a strong stable organization persevered and will endure for years to come.
Cathy's can-do spirit, grounded and hands-on approach inspired everyone who had good fortune to work with her. Her ever-presence at the Prevention Center — on our phones, in our respite playroom, helping families during the holidays, leading board meetings — always provided care, calm, and honesty. Her good humor and kind soul was cherished by all and will never be forgotten. We will miss her deeply. Today, the TALK Line remains a vital and constant community resource thanks to her vision and passion.