Remembering Delia
August 5, 2016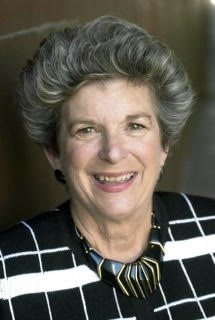 Delia Ehrlich was a passionate philanthropist. The Prevention Center was among the numerous causes that she supported through her membership in the Auxiliary. Delia facilitated numerous fundraisers and grants in support of the Children's Snack Time program, as well as, the Holiday Toy Program. She was a stalwart supporter of the Annual Luncheon.
Her passion for the Prevention Center passed down to her son John, who served on the Prevention Center's Board of Directors during his tenure as Captain of Park Police Station.
Whenever Delia would say "I don't know what I can do to support the Prevention Center", her friend, Auxiliary Founder Linda Cannon would say "Why Delia, you've given us your firstborn son!"
She was a force in the San Francisco community and will be missed.
From the San Francisco Chronicle:
Delia Fleishhacker Ehrlich, a noted San Francisco philanthropist whose family helped develop the Comstock mines, bring electricity to California and contribute to the city's culture with contributions to education and the fine arts, died peacefully at home on Sunday after suffering a stroke. She was 85.
Mrs. Ehrlich was a fourth-generation San Franciscan, the great-granddaughter of Aaron Fleishhacker, a Bavarian immigrant active during the Gold Rush and in the development of the Comstock silver mines, and who made a fortune with the A. Fleishhacker & Co. Paper Box House, a box company.