Prevention Center hosts private Paper Tigers screening + panel of county trauma-informed systems leaders
March 22, 2016
This article has been cross-posted from ACEs Connection, see the original here.
On the evening of March 2, 2016, the SF Child Abuse Prevention Center hosted a private screening of Paper Tigers with an accompanying panel of SF county systems leaders for about 80 community members.
Paper Tigers is an intimate look into the lives of selected students at Lincoln High School, an alternative school that specializes in educating traumatized youth. Set amidst the rural community of Walla Walla, Wash., the film examines the inspiring promise of Trauma Informed Communities — a movement that is showing great promise in healing youth struggling with the dark legacy of Adverse Childhood Experiences (ACES). The film was an Official Selection of the Seattle International Film Festival, Mill Valley Film Festival, and Milwaukee Film Festival.
The panel, moderated by ACEs Connection Founder, Jane Stevens, included James Redford Filmmaker, Katie Albright SF Prevention Center's Executive Director, Joyce Dorado, PhD, UCSF's Director of Healthy Environments and Response to Trauma in Schools, Ken Epstein, PhD, City of SF Department of Public Health's Director of Children, Youth and Families Systems of Care, Kevin Gogin, MFT, SFUSD's Director of Safety and Wellness for School Health Programs, Allen Nance City of SF's Chief of Juvenile Probation.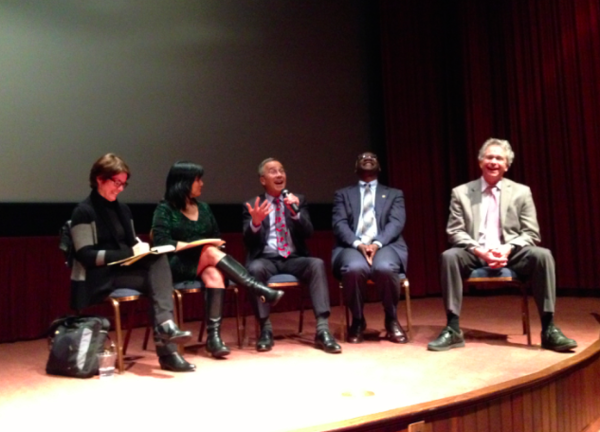 The San Francisco Child Abuse Prevention Center wants to end child abuse in SF in 50 years, or two generations. Their driving mantra is joy and hope with a focus on prevention. The Center goes beyond ACEs and risks to look at strengths and protective factors —  parent resiliency, social emotional competencies, parent's understanding of kids growth and development, social connections, concrete supports and basic needs. Their programs show that 80 percent of families supported by their services are growing protective factors.
The panel discussion included guided questions on personal, professional, and community impact of the movie.
Highlights included:
Ken Epstein, SF Dept. of Public Health
ACEs don't happen in 50 minutes and we can't treat them in 50 minutes. Mental health supports should be embedded in all of us — teachers, principals, nurses, bus drivers, librarians, and barbershops.
Allen Nance, SF Juvenile Probation
As probation officers, we have a responsibility to see beyond the behavior and help young people succeed.
Kevin Gogin, SF Unified School District
Kids need to feel safe at school and families need to feel safe leaving their kids there. We have to change the institution. Adults needs to change, not the kids.
Joyce Dorado, UCSF Healthy Environments and Response to Trauma in Schools (HEARTS)
It's about the importance of relationships. You don't have to be a therapist. The lunch lady, the school security officers, the principal, all have something at stake.
The county systems leaders shared their collaborative efforts around creating a shared language and trauma informed system of care for youth and families in SF. These efforts will be tracked and shared via the following ACEs Connection groups: SF County ACEs Connection group (public), SF Trauma Informed Systems group (private, to be launched shortly), and the SF Bay Area group (public, to be launched shortly.)
Learn more

about the neurobiology of toxic stress, epigenetics, Adverse Childhood Experiences (ACEs), and resilience at: ACEs 101
about the trauma-informed and resilience-building approaches implemented in response to ACEs go to: ACEs Too High
Join