Natalie Delagnes Talbott: Thoughtful, Kind & Balanced
December 19, 2016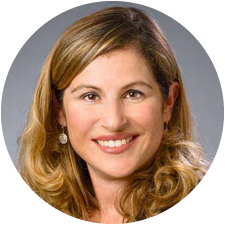 What can I say about Natalie? She is unquestionably one of the most dedicated advocates for children and child abuse prevention that I have the privilege of knowing. From her time volunteering in the Playroom as a high schooler to her time as chair of our Board of Directors with children of her own, Natalie and the Prevention Center have grown up together. Natalie, thank you for your service, your passion, and your commitment. I have no doubt that you and your family will stay part of the Prevention Center for many years to come.
Q: Tell me about your life.
A: I was born and raised in San Francisco — a third generation San Franciscan. I'm married with two kids (7- and 3-years-old). By day I am a lawyer practicing in the areas of estate and tax planning. I love to play the piano, play tennis, run, and read — all of which I can't seem to make time for with young kids! I work with my dad and live across the street from my sister, in the house I was raised in. Needless to say, the apple hasn't fallen far from the tree.
Q: What are you most passionate about?
A: Raising my children to be strong community members. Also, helping families support and understand each other, and make informed and compassionate choices financially and emotionally to achieve their goals.
Q: How did you first get involved with the Prevention Center?
A: Lois Pavlow, one of the founders, was a family friend and a client of my dad's. I was looking for a volunteer opportunity in high school and chose the Prevention Center. I volunteered in the Playroom, with Maria Eitz, and in the office with Anita Moran, Kathy Baxter, and Patsy Jones (all key members of the Prevention Center fabric and formation). I have been coming back to serve ever since.
Q: Why did you first give & why do you continue to support the Prevention Center?
A: In 2003, I joined the Board of the Child Abuse Prevention Society (CAPS), the non-profit that owned the Waller Street firehouse before donating the building to the Prevention Center. When the organizations merged in 2007, I joined the Prevention Center's Board of Directors.
Q: Why did you join the Board of Directors (& serve as its chair)?
A: Why I stayed and continued to serve became more clear in 2009 after I had my first child. I thought I would retire from the board after having a baby and being strapped for time as a working mom, but I realized more than ever before, the invaluable support the Prevention Center provides to so many families who aren't as fortunate as me. It truly takes a village to raise children, and I didn't really get that until I needed it myself. Now I know how important every program we offer truly is.
Q: You're ending your tenure with the Board, what's next?
A: What's next? I want to stay involved with the Prevention Center and its mission. My goals in 2017 include introducing my kids to volunteering at Tuesday dinners, as well as other volunteer opportunities the Prevention Center offers. It is also a goal to go through TALKLine training, but that may be in 2018.
Q: How would you describe your personal mission?
A: Be grateful. Do good. Choose happiness.
Q: If you could ensure that future generations learned one thing, what would it be?
A: Pay it forward
Q: What's the hardest part of parenting? What's the best part of parenting?
A: The hardest part of parenting is learning what motivates your child to be their best person. The best part is hearing your child share the advice you gave them (that you thought they ignored) to someone else.
Q: What makes you angry / sad?
A: Injustice
Q: What makes you hopeful / happy?
A: The simple acts of kindness of strangers.
Q: What's your favorite thing about San Francisco?
A: The seven mile radius with less than six degrees of separation. The thick wet fog rolling in after a scorching hot weekend.
Q: Anything else you want to say?
A: I am so grateful and thankful to my parents for the patience and resilience they taught me by example. An example that I strive to instill in my children, and that we strive to instill in every family we encounter at the Prevention Center in support of generations of healthy families.
Find out how you can support families by volunteering or donating.