Meeting Big & Small Needs: Helping Families Cope with COVID-19
August 5, 2020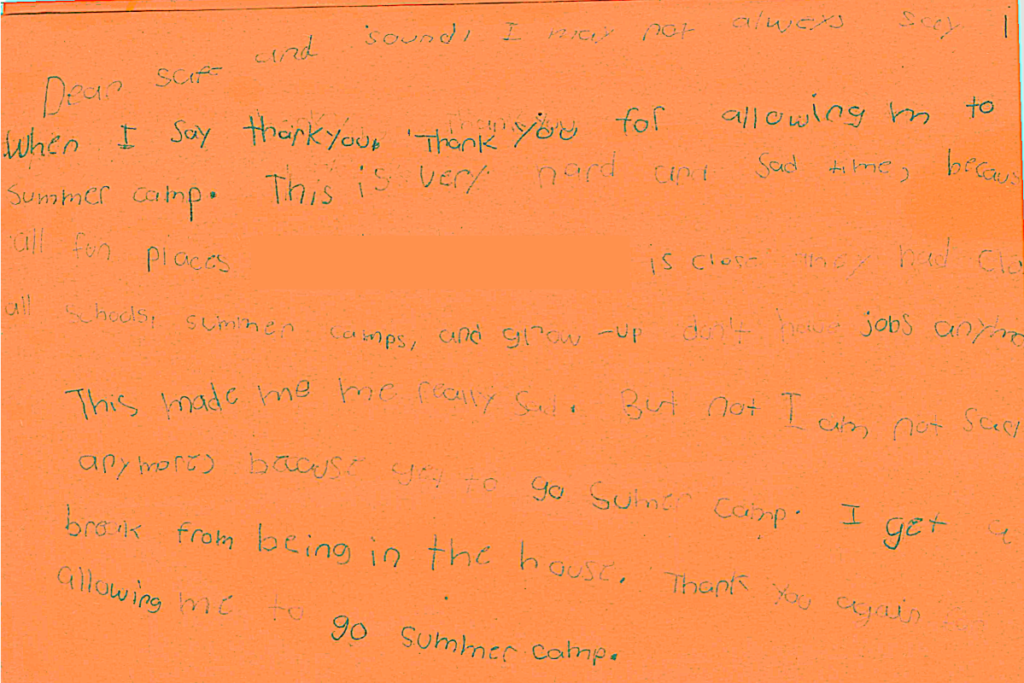 "Dear Safe & Sound, I may not always say I when I say thank you. Thank you for allowing m to summer camp. This is very hard and sad time, because all fun places is closed. They had closed all schools, summer camps, and grow-up don't have jobs anymore. This made me me really sad. But now I am not sad anymore because get to go summer camp. I get a break from being in the house. Thank you again for allowing me to summer camp." 
Z, Almost 10.
---

COVID-19 has changed our lives. It has challenged us with circumstances that our community and the world have never before experienced. Whether this means navigating shifting routines, trying to stay connected with friends and family, or juggling work-life balance, each one of us is doing our best to figure out how to move forward while so much of our lives and community remain shuttered. 
For parents and families already needing support before COVID-19 disrupted lives, the impact is profound. Safe & Sound has been working for 45+ years to safeguard families from the big and small hardships in life because we know that supporting families through challenges is one of the keys to protecting children and ending child abuse. Two of our longest-serving staff members have each dedicated 27 years to this work and hold the history of the organization, as well as the stories of many individuals who have walked through the doors or called our 24/7 phone line.
Helena Edwards is Senior Program Manager of Family Advocacy, and Molly Jardiniano is Associate Director of Children & Family Services. For many of the families that we serve, Helena's and Molly's faces represent Safe & Sound. Some visited as children and now bring their own kids to our Playroom because of the deep connections with Molly and Helena. And despite the challenges and difficulties of COVID-19, both have remained in close touch with families. Read more for their first-hand experiences helping families through the challenges of this pandemic.
[center_content]

[/center_content]

More than one pandemic: COVID-19, economic uncertainty & racial injustice
Families are in need of a lot right now. In the first few days of COVID-19, we began by trying to support families experiencing fear and anxiety, to understand the pandemic, and seek out stability and safety. In the first month, it became abundantly clear that families needed financial support. Housing and job insecurity remain the biggest concern and continue to take a toll on parents. They need help with rent, they need help looking for income, and they need basics like groceries and household supplies. 
But we know from our work rooted in Protective Factors that support doesn't stop there. Many families have expressed the need to be connected back to their community, both physically and emotionally. Social distancing has left parents feeling isolated as well as concerned for their kids' physical and mental health. Multiple families have requested bicycles for their children, worried about the lack of physical activity — especially concerning for a family with a history of diabetes and heart conditions. Others have seen a change in their child's eye prescriptions due to the increase in screen time. If kids were having difficulties before, this environment exacerbates any mental, physical, or behavioral issues. 
However, Molly points out that "it's not only just COVID. I see so many different pandemics happening: the racism pandemic, the economic pandemic — the world really has felt like it's blowing up but we all have to stay in our private homes to not catch COVID." 
Particularly for Black, Indigenous, People of Color (BIPOC) families, parents are struggling to talk to their kids about the work of #BlackLivesMatter and educating young minds about these topics in ways they can understand. They are confronted with having to teach their children about racial inequity and systemic injustices while wanting to safeguard and protect them. For example, in a recent virtual Single Parent Network session, eight single dads talked about how to go for a walk down the street with their Black and Brown children without fear. The hypervigilance for safety coupled with uncertainty has created enormous anxiety and stress.
[center_content]

[/center_content]
Meeting families' needs — big and small 
The intensity that families are living with each day is what the team takes on and holds, all while constantly looking at how to meet families' concrete needs. Within the first week, our Children & Family Services team pivoted their jobs and in addition to addressing challenges with housing, utilities, food access, and nutrition — they also had to become experts in internet access, telehealth, PPEs, and remote education.
But on top of the groceries, personal hygiene items, and supplies, Helena knows that families need to feel connected. "There's no amount of money that can replace some of those things that families are really needing, like a hug or a "hello." And no, we can't give hugs right now, but if they hear your voice or they see you bringing something to them, that brightens up their day. I've done home visits outside with families, just talking to them or going on walks, because families need social connections — especially parents and children who are isolated who don't have a supportive partner or are single parents."
The biggest support that Helena provides to each family is the acknowledgment that this time is hard and we're all in it together. "Families are grateful that we remembered Mother's Day, Father's Day, and excited for graduation gifts. It wasn't in our plan but we have to acknowledge the small things that our families are going through and to highlight "you did this during a pandemic. You are doing amazing." 
Post COVID-19: navigating the future with humility, respect & integrity
The hardships caused by COVID-19, from health impacts, financial insecurity, social isolation, the physical and emotional tolls on families, housing uncertainty, and systemic racial and social injustices, will deeply impact families in the near- and long-term. Uncertainty surrounding daycare and online education will pose challenges for parents struggling to balance the responsibilities of home and work. 
While we can't yet predict what the exact crises or needs will be, our team has shown resilience and innovation in our ability to respond to unexpected challenges. We do know that in the coming months, we will have to become even more flexible and adaptive as we continue to navigate what comes ahead. Whatever the circumstance, we will treat everyone with empathy, humility, and with the love, respect, and common courtesy that every family and individual deserves. 
We are extremely grateful to Helena and Molly for their dedication and commitment that extends far beyond our walls and work-week. We have learned through their leadership to bring integrity to all aspects of our work and intentionality to every individual who comes to Safe & Sound. This deeper connection is what has shown families that they are worthy and deserving, and allowed them to see and make a future for themselves. We will continue to strive to help families feel seen and heard while we advocate for safe children and strong families.