Learn about our year.
August 24, 2018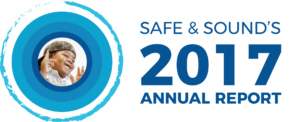 We did a lot last year. We supported vulnerable families, expanded our partnerships, and leveraged new data to advocate for the health, safety, and wellbeing of all children.
Here are three highlights from the report:
By employing proven prevention strategies and programs, the San Francisco community has reduced the rate of child abuse by 67 percent over the past 15 years.
In January 2017, we released a report about the fiscal impact of child abuse in San Francisco, and later in the year expanded our research to unearth the cost for the entire Bay Area. Hint: it's billions of dollars.
After considering 120+ new names, on September 26, 2017, we changed our name from San Francisco Child Abuse Prevention Center to Safe & Sound, and we love it.