With heavy heart, we say goodbye to our founder Dr. Moses Grossman.
January 27, 2018
He was a dear friend and constant champion for children.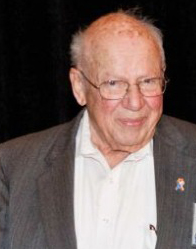 Today, our founder, Dr. Grossman, passed away. It was in 1973 when Dr. Moses Grossman began to create a city safe for all kids.
While Chief of Pediatrics at UCSF / San Francisco General Hospital he saw first-hand the injustices to children, daily. Rather than treat children who have been hurt, he wanted to prevent them from ever feeling the pain of abuse.
In effort to protect these innocent young people, Dr. Grossman founded the San Francisco Child Abuse Council to develop policies and best practices regarding child abuse prevention and response. Long past his tenure at the hospital, Dr. Grossman continued to champion the rights, health, and safety of all children.
An unknowable number of children are safe and healthy thanks to Dr. Grossman's vision, passion, and willingness to actually do something.
We stand on his shoulders, and we are forever grateful. Now, decades later, his legacy and work continues under our new name Safe & Sound.
"…When I arrived at San Francisco General Hospital, in 1960, as chief of the department there, I found that child abuse is pretty prevalent in our society, in San Francisco as elsewhere. There were so many instances of child abuse, and the community resources for managing these cases were poor. There was poor coordination between the health department and or health resources, the social services, the police…So I felt that because we were reporting all these cases it was very important for our department and for me personally to get involved with making sure that after the reporting, something constructive and not destructive was done." – Dr. Grossman