Brianna Green: Powerful, Funny & Kind
July 28, 2016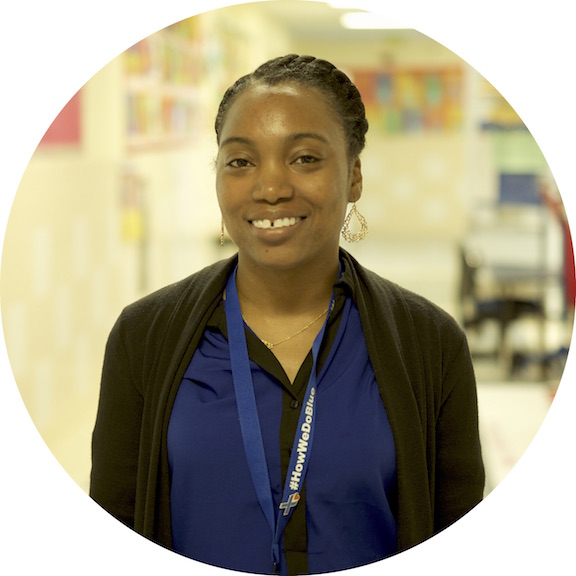 A year ago, Brianna chose to bring her talents and enthusiasm to the Prevention Center when she joined our team as a community educator. Over this past year, I've had the privilege of watching her command the classrooms of our city's elementary schools. With ease and humor, she teaches tough topics like gun safety and prevention of sexual abuse — and how kids can keep safe from both. Brianna's finesse in talking about these difficult topics without scaring the young children, all the while managing wiggles and giggles, truly is a command performance. I introduce you to, Ms. Brianna.
Q: Tell me about your life.
A: I was born and raised in San Francisco's Bayview Hunters Point, and I've lived in the same house for the past 31 years. I have a small immediate family: My mother, sister, and two nephews are the most important people in my life. My father passed away a few years ago. I attended Catholic school my entire life from elementary all the way to graduate school. I love to dance (though I am no Beyonce, I think I could be one of her backup dancers) and go wine tasting. I also love to read self-help / motivational books.
Q: When & why did you join the Prevention Center team?
A: I started with the Prevention Center one year ago. After working with kids for more than a decade, I wanted to do something hands on dealing with prevention of trauma. I wanted to empower kids to keep themselves safe.
Q: What's a typical workday like for you?
A: I usually start my mornings at a school teaching an average of 6 safety lessons to various classes of different grades and ages. Depending on what follow up work I do with teachers and other school personnel, I usually make it back to the office between 2:00 – 3:00 p.m. Once at the office, I get a chance to catch up on paperwork, prepare for the next day's lesson, and check in with the Community Education Team.
Q: What's an example of a lesson you teach?
A: All lessons start with discussion of a specific safety topic (guns, safe vs. unsafe touch, cyberbullying, etc.). We then practice with the kids through role plays and Q&A. For example, in our safe vs. unsafe touch lesson, we first define what a safe and unsafe touch is, starting with simple examples like a pat on the back vs. a push and moving along to touching of private body parts. We talk about what to do if someone gives us an unsafe touch using the "SAY NO, GET AWAY, and TELL SOMEONE" framework. Afterward, we do role plays that gives examples of safe and unsafe touches and talk with the kids about appropriate responses to the role play situations.
Q: How do the kids respond to you / the lessons?
A: The students we work with are very responsive to the lessons. Typically, they remember the previous lesson and want to answer the recap questions. I can tell students are understanding the lessons when they whisper to their neighbor about the information I just relayed to them. Students remember me after the first lesson. They may not remember my name, but they know I am the safety lady.
Q: What's the best part of your job?
A: The best part of my job is listening to the students repeat the information I've given them. It lets me know that I've done a good job explaining the topics to them and gives me hope that they know how to keep themselves safe.
Q: As an SF native, how do you think growing up in SF now is different from your childhood?
A: Children don't play outside anymore. When I was younger, all of the neighborhood kids would do their homework, then meet outside to ride our bikes or skate. Also, since working in schools, I've seen kids being introduced to different cultures at an earlier age. Children are exposed to many more different types of food and traditions than I was at their age.
Q: If you could change the world, what would you do?
A: If I could change the world I would eradicate all of the isms: Racism, Sexism, Ageism, Ableism.
Q: What makes you angry / sad?
A: Seeing kids not get the opportunity to be a kid; I've seen so many kids that have to make adult decisions or kids that have to take on adult situations.
Q: What makes you hopeful / happy?
A: Listening to my favorite band of all time, 112, and spending time with my nephews.
Q: What's your favorite thing about San Francisco?
A: I can experience different cultures, and it's rarely hot.
Q: What are you most passionate about?
A: I am passionate about making sure every child that experiences abuse is able to speak up and tell their story. I want to let every child know that they are loved.