Sometimes Life Can Challenge a Family's Strength
November 21, 2022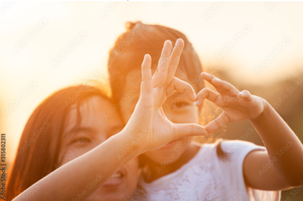 After fleeing her home country because of domestic violence, Amanda found herself staying with one of her four children in an emergency shelter in San Francisco. Unable to speak English, and faced with the legal process of a divorce and child custody without an attorney's support, it was the most challenging time of her life. That's when Amanda connected with Safe & Sound and things started to look up. With a contribution today, your generosity will help families like Amanda's receive the vital programs and services they need—not just to survive, but to thrive. 
After participating in nearly every available family strengthening service offered at Safe & Sound, Amanda's story has a new chapter of success. Amanda has custody of her four children (three of whom she had to petition to legally have with her in the U.S.), educational services for her son with special needs, stable housing, and a full-time job. It took a lot of work on Amanda's part, and the partnership of her Safe & Sound Clinical Care Coordinator, to create an individualized therapeutic plan and follow it through. From parenting classes that taught positive strategies for managing challenging childhood behavior, to access to a supportive caregiver community, Amanda parented her children through the challenges and gained tools that will support their family for a lifetime. She stays connected to Safe & Sound through our 24-hour TALK Line and parental drop-in services.
With the assistance and support of the Safe & Sound community—people like YOU—Amanda reached the goals she set when she first walked through our doors.
Our multilingual Clinical Care Coordinators connected Amanda to a pro-bono attorney to provide representation in her divorce and custody dispute, helped translate the paperwork she needed to obtain educational services for her son with special needs, and assisted in applying for affordable housing.
TALK Line volunteers provided 24/7 support through challenging times. Amanda received therapeutic telehealth and house visits before and throughout the pandemic.
Staff and volunteers managed our Playroom and parenting classes Amanda attended to improve her parenting skills.
And finally, generous donors gave what they could to make sure Amanda and her children received all of these services for free, including funds for childcare when Amanda was sick.
Your gift as a Safe & Sound community member ensures families like Amanda's are not alone during some of the biggest challenges faced by parents and children. 
WITH YOUR HELP AMANDA'S SUCCESS STORY CONTINUES!
Amanda's story does not stop here. She wants to attend a program that will build her skills and put her on a job path to improve her family's future. Your contribution is a vote of confidence and support for Amanda, and for all of the families that work with Safe & Sound.
Sincerely,

Melina León
Senior Program Manager-Care Coordination
Safe & Sound
P.S. Your gift to Safe & Sound will have double the impact. The Quest Foundation will generously match your gift dollar for dollar up to $100,000. Help us meet this challenge grant by mailing a gift today or donating online at: www.safeandsound.org/donate.