We strongly condemn the recent actions of Texas Governor Greg Abbott to classify gender-affirming care for transgender children as "child abuse." 
Simply stated, gender-affirming care for transgender children is not child abuse. It is, in fact, a demonstration of love and acceptance. By contrast, the Texas action is abusive and ignores the facts that transgender children and adults are at greater risk of depression, thoughts of suicide and attempted suicide. 
"As a mother to a transgender daughter adopted from foster care, I have seen the sheer joy and relief in my child when she was able to show up in the world as her true self. Labeling that experience as caregiver "abuse" will keep so many children imprisoned in their own bodies and minds—or in the loneliness and trauma of the child welfare system—perpetuating the anxiety and depression they too often already face due to stigma and feelings of fear and isolation. No one has the right to criminalize the love and care ALL children need and deserve." Beth K., foster-adopt mother.
Equating gender affirming care with child abuse is a direct assault on the purpose of child protection laws and diverts child protection resources from legitimate reports of suspected child abuse, thereby endangering children. Texas' action will require doctors, nurses, teachers, and other adults who have contact with transgender children to report purported "abuse" to the Texas Department of Family and Protective Services or face possible criminal penalties.
We join San Francisco's leadership in strongly denouncing the Texas action, including:  Senator Scott Wiener – "California will always have the backs of LGBTQ youth & their families."  Mayor London Breed – "In San Francisco, we will continue to support all of our LGBTQ youth, the parents who love them, and our entire trans community." Trent Rhorer, Executive Director of the San Francisco Human Services Agency, along with his colleagues throughout California at the County Welfare Directors Association of California, and their Executive Director, Cathy Senderling, also noted  the pernicious effect of this action "in calling on child welfare agencies for political purposes when abuse or neglect are not present runs the risk of pulling our already limited staff resources away from vulnerable children and youth who are victims of, or at risk of, abuse and neglect."
As an organization dedicated to strengthening families and ending child abuse, we stand with others from across the county to urge Texas leadership to reject attempts to use laws that are meant to protect children, to instead cause them great harm.
---
Katie Albright is an attorney and President & Chief Executive Officer of Safe & Sound, a San Francisco-based children's advocacy organization dedicated to strengthening families and ending child abuse through evidenced-informed services, education, partnerships, and policy. Safe & Sound is part of a national network of family resource centers that partner with families each day to promote positive outcomes for children, caregivers, and communities.
By: Katie Albright and Jody Levison-Johnson
January 28, 2022
Children thrive on positive and nurturing relationships with caregivers and other adults in their lives.
This means supporting a child starts with supporting their parents and caregivers, and too many are overloaded right now. COVID-19 has created immense burdens for people who are caring for children, and they are trying their best to stay afloat — from financial strains caused by job loss, to child care shortages, to the mental stress of keeping their families healthy. Too often, parents do not know where to turn for assistance when they need it. Even before the pandemic, a national survey of parents with young children found 48% did not receive the help they needed, with 8% saying they get no support at all.
We can relieve some of this stress and improve the well-being of children by providing support to families who may be struggling. Sixty percent of children who come to the attention of child protection systems do so because of concerns related to neglect, which can often result from living in poverty. If we want to prevent neglect, we need to address the root causes and ensure families are financially stable. By investing in preventive resources, public health approaches, and financial support for children and their families, we can implement effective long-term solutions that keep families together and ultimately keep young people safe.
We cannot afford to be solely reactive and only pay attention after a crisis occurs. Research shows that by working proactively to address immediate needs with concrete financial support, we can prevent families from needing child welfare involvement. Entities like Family Resource Centers and nurse home visiting programs are two best-in-class examples of how providing concrete supports — housing, income, and food — can alleviate the need to place children in the foster care system and separate them from their home, communities, and culture.
Fortunately, child protection in our country is changing for the better — from a system that responds only after a child has been harmed — to one that is more focused on the needs of children and families from the start. As representatives of organizations that work across the child protection spectrum from prevention to placement to reunification, we welcome this change. We have seen what works, and what does not.
Some may argue that removing children from their families, rather than finding ways to proactively support the family, is the right approach. Science, however, shows that further harm may occur when children and youth are taken from their support systems. Our focus should be on minimizing this trauma, especially for the majority of families who do not require removing a child from their home.
When parents are unable to care for their children, placing children with other family members can be the next best option. Studies have shown that child welfare policies that prioritize placing a child with their relatives or other guardians have significant benefits for the child. By investing in kinship care, we can help minimize a child's trauma, increase stability and permanency, improve mental and behavioral health outcomes, and create an easier transition for these youth as they age into adulthood.
Further, our solutions must reckon with racism that is deeply embedded within the very system intended to protect children. Our children pay the price when we ignore this ugly reality. The structural flaws of the child protection system have a disproportionately negative impact on Black and Indigenous children compared to their white peers. Because of systemic and structural inequities, the child protection system is more likely to separate children of color from their parents and place them in foster care; place them with multiple families or in group homes; and reunite them less frequently with their birth families or establish a permanent home. All of this creates conditions under which children of color are less likely to attain equal social, behavioral, and educational outcomes.
Taken together, this paints a clear picture: We need to reimagine the child protection system. By funding programs that support housing infrastructure, child care assistance, and medical care, we can relieve significant stress for families — stress that we know has negative downstream effects on children. When we support parents and caregivers with the resources they need, everyone benefits. We all want what's best for kids. Let's start with their parents.
Katie Albright is an attorney and president & CEO of Safe & Sound, a San Francisco-based children's advocacy organization dedicated to strengthening families and ending child abuse through evidenced-informed services, education, partnerships, and policy. Safe & Sound is part of a national network of family resource centers that partner with families each day to promote positive outcomes for children, caregivers, and communities.
Jody Levison-Johnson is a licensed clinical social worker with nearly 30 years of human service experience and the president and CEO of Social Current, a Washington, D.C.-based organization formed from the Alliance for Strong Families and Communities and the Council on Accreditation joining forces. Social Current creates and nurtures relationships among social sector organizations and drives the future of the sector through policy, advocacy, knowledge exchange, certification, and accreditation.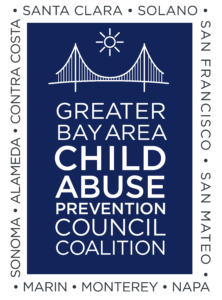 The Greater Bay Area Child Abuse Prevention Council Coalition
August 8, 2021
Over the past many months, we have learned to practice social distancing, mask wearing and hand washing. It's routine now. Our public health experts remind us often that these precautions remain our best daily protection against transmission of COVID-19 virus, particularly in the presence of unvaccinated individuals. For some families with kids, these standards present a burden, and some parents are stating that mask requirements for children in the classroom is a form of child abuse.
The COVID-19 virus and its variant forms, including the Delta variant, are serious health hazards. As we work to understand our risks and our options, child safety issues raise critical questions. Parents, caregivers and school staff are struggling to make the best decisions they can to keep kids healthy and protected while attending their classes, in person.
The need for protection is great. According to Dr. Yvonne Maldonado of Stanford University, the Delta variant has affected a "higher proportion of unvaccinated individuals who are becoming infected, including children, especially those under 12." In California the second half of July of 2021 produced 13,757 cases of COVID infection in kids under 18 years of age — more than double the 4,835 cases reported during the first 2 weeks of the month.
These are the disturbing numbers that have forced school districts to implement standards they have not required in the past, including mask wearing in classrooms. The long term health of our kids makes it essential for schools to follow recommended safety protocols.
No parent wants to see their child treated in an abusive or neglectful manner. Consequently, parents have, for decades, provided their kids with mandated vaccines, seat belts and car seats in an effort to keep them healthy and safe with no concerns of abuse.
Child abuse and neglect are serious social injustices and their impact is devasting and life changing. By equating mask requirements to abuse we dilute the purpose of child protection laws and minimize actual child maltreatment. It diverts child protection resources from legitimate reports of suspected child abuse, thereby endangering children.
It is time for us to work cohesively, support our schools, our teachers, our families — and the youngest, most vulnerable among us. Let's pull together and keep our kids and our schools safe.
Sincerely,
The Greater Bay Area Child Abuse Prevention Council Coalition
Alameda County Child Abuse Prevention Council • Contra Costa Child Abuse Prevention Council • Marin County Child Abuse Prevention Council • Monterey County Child Abuse Prevention Council • Napa County Child Abuse Prevention Council (COPE Family Services) • Safe & Sound – San Francisco • San Mateo County Child Abuse Prevention Council • Santa Clara County Child Abuse Prevention Council • Solano County Child Abuse Prevention Council (Children's Network) • Sonoma County Child Abuse Prevention Council (Child Parent Institute)
Mission: To provide leadership and support collaboration to the child abuse prevention community to promote culturally responsive, fair, respectful and effective services to end child abuse and neglect.
www.bayareapreventchildabuse.org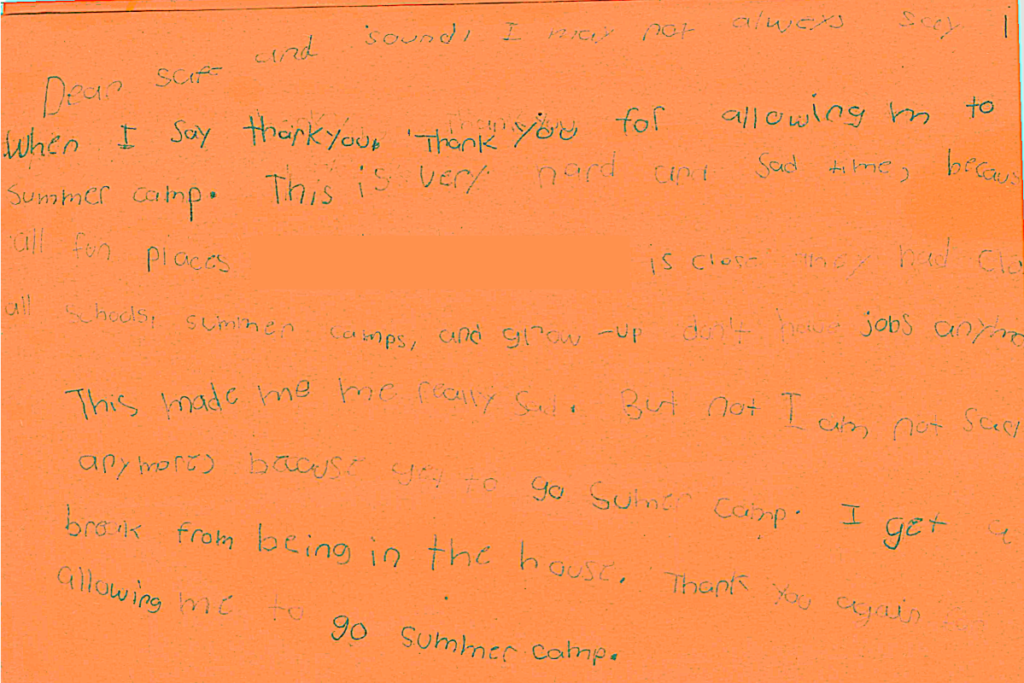 "Dear Safe & Sound, I may not always say I when I say thank you. Thank you for allowing m to summer camp. This is very hard and sad time, because all fun places is closed. They had closed all schools, summer camps, and grow-up don't have jobs anymore. This made me me really sad. But now I am not sad anymore because get to go summer camp. I get a break from being in the house. Thank you again for allowing me to summer camp." 
Z, Almost 10.
---

COVID-19 has changed our lives. It has challenged us with circumstances that our community and the world have never before experienced. Whether this means navigating shifting routines, trying to stay connected with friends and family, or juggling work-life balance, each one of us is doing our best to figure out how to move forward while so much of our lives and community remain shuttered. 
For parents and families already needing support before COVID-19 disrupted lives, the impact is profound. Safe & Sound has been working for 45+ years to safeguard families from the big and small hardships in life because we know that supporting families through challenges is one of the keys to protecting children and ending child abuse. Two of our longest-serving staff members have each dedicated 27 years to this work and hold the history of the organization, as well as the stories of many individuals who have walked through the doors or called our 24/7 phone line.
Helena Edwards is Senior Program Manager of Family Advocacy, and Molly Jardiniano is Associate Director of Children & Family Services. For many of the families that we serve, Helena's and Molly's faces represent Safe & Sound. Some visited as children and now bring their own kids to our Playroom because of the deep connections with Molly and Helena. And despite the challenges and difficulties of COVID-19, both have remained in close touch with families. Read more for their first-hand experiences helping families through the challenges of this pandemic.
[center_content]

[/center_content]

More than one pandemic: COVID-19, economic uncertainty & racial injustice
Families are in need of a lot right now. In the first few days of COVID-19, we began by trying to support families experiencing fear and anxiety, to understand the pandemic, and seek out stability and safety. In the first month, it became abundantly clear that families needed financial support. Housing and job insecurity remain the biggest concern and continue to take a toll on parents. They need help with rent, they need help looking for income, and they need basics like groceries and household supplies. 
But we know from our work rooted in Protective Factors that support doesn't stop there. Many families have expressed the need to be connected back to their community, both physically and emotionally. Social distancing has left parents feeling isolated as well as concerned for their kids' physical and mental health. Multiple families have requested bicycles for their children, worried about the lack of physical activity — especially concerning for a family with a history of diabetes and heart conditions. Others have seen a change in their child's eye prescriptions due to the increase in screen time. If kids were having difficulties before, this environment exacerbates any mental, physical, or behavioral issues. 
However, Molly points out that "it's not only just COVID. I see so many different pandemics happening: the racism pandemic, the economic pandemic — the world really has felt like it's blowing up but we all have to stay in our private homes to not catch COVID." 
Particularly for Black, Indigenous, People of Color (BIPOC) families, parents are struggling to talk to their kids about the work of #BlackLivesMatter and educating young minds about these topics in ways they can understand. They are confronted with having to teach their children about racial inequity and systemic injustices while wanting to safeguard and protect them. For example, in a recent virtual Single Parent Network session, eight single dads talked about how to go for a walk down the street with their Black and Brown children without fear. The hypervigilance for safety coupled with uncertainty has created enormous anxiety and stress.
[center_content]

[/center_content]
Meeting families' needs — big and small 
The intensity that families are living with each day is what the team takes on and holds, all while constantly looking at how to meet families' concrete needs. Within the first week, our Children & Family Services team pivoted their jobs and in addition to addressing challenges with housing, utilities, food access, and nutrition — they also had to become experts in internet access, telehealth, PPEs, and remote education.
But on top of the groceries, personal hygiene items, and supplies, Helena knows that families need to feel connected. "There's no amount of money that can replace some of those things that families are really needing, like a hug or a "hello." And no, we can't give hugs right now, but if they hear your voice or they see you bringing something to them, that brightens up their day. I've done home visits outside with families, just talking to them or going on walks, because families need social connections — especially parents and children who are isolated who don't have a supportive partner or are single parents."
The biggest support that Helena provides to each family is the acknowledgment that this time is hard and we're all in it together. "Families are grateful that we remembered Mother's Day, Father's Day, and excited for graduation gifts. It wasn't in our plan but we have to acknowledge the small things that our families are going through and to highlight "you did this during a pandemic. You are doing amazing." 
Post COVID-19: navigating the future with humility, respect & integrity
The hardships caused by COVID-19, from health impacts, financial insecurity, social isolation, the physical and emotional tolls on families, housing uncertainty, and systemic racial and social injustices, will deeply impact families in the near- and long-term. Uncertainty surrounding daycare and online education will pose challenges for parents struggling to balance the responsibilities of home and work. 
While we can't yet predict what the exact crises or needs will be, our team has shown resilience and innovation in our ability to respond to unexpected challenges. We do know that in the coming months, we will have to become even more flexible and adaptive as we continue to navigate what comes ahead. Whatever the circumstance, we will treat everyone with empathy, humility, and with the love, respect, and common courtesy that every family and individual deserves. 
We are extremely grateful to Helena and Molly for their dedication and commitment that extends far beyond our walls and work-week. We have learned through their leadership to bring integrity to all aspects of our work and intentionality to every individual who comes to Safe & Sound. This deeper connection is what has shown families that they are worthy and deserving, and allowed them to see and make a future for themselves. We will continue to strive to help families feel seen and heard while we advocate for safe children and strong families.
Children who experience abuse may require help to recover. Parents who want to help their child recover often have to choose between working to pay for living expenses and medical treatment or being there for their child after the child has been abused. Children who suffer from ongoing medical problems after abuse can qualify for Supplemental Security Income which will give the parents money to help pay for additional treatment for the child or living expenses so that their child can focus on healing. Here's a little more information on how your child could qualify for benefits offered by the Social Security Administration:
Medically Qualifying For Supplemental Security Income After Abuse
Children who are traumatized can develop a number of serious health problems. Often physical and mental conditions occur together. A child may develop chronic pain as well as display the symptoms of PTSD and chronic after stress. Or a child could develop OCD after trauma. Some of the health problems and symptoms that are often seen in children who have been abused include:
hypervigilance

anxiety, depression

aggression or withdrawal

poor academic performance

frequent absences

weight loss or weight gain

sleeping difficulty with frequent nightmares

poor hygiene

appearing fatigued
All of these symptoms can contribute to a child's eligibility for disability benefits. The conditions that qualify a child to receive SSI benefits can all be found online in the Social Security Administration's Blue Book. The Blue Book lists all of the conditions that affect children who have been abused and what criteria must be met in order to qualify for benefits. For example, in order to qualify for SSI benefits a child with PTSD would need to demonstrate symptoms like the following:
Hypervigilance

Easy startle response

Insomnia

Anxiety
Medical documentation of the child's condition is required in order for the application to be approved. Statements from people who know the child and can talk about the severity of the child's symptoms like counselors, therapists, police, teachers, and more can also be submitted with the application for SSI for the child. The more medical evidence you have on your side showing how your child's life has been affected, the more likely he or she is to be approved.
Parents Need To Qualify Financially
The child needs to medically qualify for SSI benefits, while the parents need to qualify financially. There are income limits that apply to SSI benefits because SSI was created to help low-income families who are struggling to provide the care and treatment their child or children need.
In order to qualify for Supplemental Security Income, your total household income cannot exceed the income limits listed by the SSA. The income cap is set on a sliding scale that changes depends on how many adults live in the home and what their combined income is. When you submit an application for SSI for your child you will need to submit financial documents like your federal taxes for the previous year, W-2s, pay stubs, and other documents.
Apply For Supplemental Security Income
When you're ready to apply for SSI you will need to find your local SSA office and make an appointment. At your appointment, an employee will help you fill out the application and make sure that you have all the documentation you should submit with the application.
Helpful Links
SSA: https://www.ssa.gov/
SSA Blue Book: https://www.ssa.gov/disability/professionals/bluebook/ChildhoodListings.htm
Income Limits: https://www.ssa.gov/ssi/text-child-ussi.htm
Medical Evidence: https://www.disabilitybenefitscenter.org/glossary/acceptable-medical-source
More On SSI: https://www.disabilitybenefitscenter.org/supplemental-security-income/how-to-qualify
SSA Offices: https://secure.ssa.gov/ICON/main.jsp  
Information provided by the Disability Benefits Center.
Miembros de la comunidad:
Al igual que muchos de ustedes, estoy indignada con la reciente política de esta administración que separa a los niños de sus padres, de manera forzada y sistemática, en nuestra frontera de los Estados Unidos.
Como hija de un refugiado, que fue cálidamente recibido en este país, esta injusticia me trae lagrimas a los ojos. Como madre, esta crueldad me causa conmoción y horror. Como líder de una organización de apoyo a la niñez, sé que estas separaciones forzadas son nada menos que un acto de maltrato infantil hacia miles de niños aprobado por el gobierno.
Las acciones de nuestro presidente y su administración han provocado traumas de desarrollo severos y complejos, además de un estrés tóxico, que afectará a estos niños durante toda su vida. El impacto en sus padres y cuidadores es devastador. Y, trágicamente, el impacto de las acciones de esta administración lo sufrirán varias generaciones, no solo estos niños y sus familias, sino todo nuestro país.
Por lo general, las familias que vinieron a nuestro país ya se han enfrentado a los efectos del estrés y el trauma en sus países de origen o en ese camino hacia la seguridad y el asilo para lograr una vida mejor. Perpetuar ese trauma entre las personas más vulnerables es simplemente inhumano. Los niños merecen nuestra protección y deben permanecer con sus familias mientras buscan refugio.
Muchas personas han expresado indignación, dolor y un sentimiento de impotencia. Para todos nosotros, personas que hemos dedicado nuestras carreras profesionales a prevenir el maltrato infantil, que somos madres y padres que luchamos contra lo inimaginable, seres humanos que simplemente sabemos que esto está mal, esta situación es devastadora, terrible e inmoral. Comparto su dolor, el enojo y el sentimiento de impotencia que experimentan.
Como un importante defensor de la niñez, Safe & Sound será nuestra voz, en cada lugar y cada vez que podamos, para denunciar esta política y estas acciones. Seremos la voz de los niños cuyas voces han sido silenciadas.
En Safe & Sound, prometemos seguir apoyando y sirviendo a todas las familias en un espacio seguro y afectuoso. Prometemos tratar a todas las familias con la dignidad y humanidad que merecen. Y, prometemos continuar nuestro trabajo para erradicar el maltrato infantil en nuestra comunidad y en nuestro país.
Seamos los encargados de brindar seguridad y civilidad, para todos y cada uno de los niños. #KeepFamiliesTogether (Mantengamos unidas a las familias).
Con profundo respeto y aprecio,
Katie Albright
Fellow Community Members,
Like so many of you, I am outraged by this administration's recent policy to forcibly and systematically separate children from their parents at our U.S. border.
As a daughter of a refugee who was warmly welcomed into this country, this injustice brings tears to my eyes. As a parent, I am heartbroken and shocked at this cruelty. As a leader of a children's advocacy organization, I know that these forced separations are nothing short of government-sanctioned child abuse to thousands of children.
These separations have caused severe, complex developmental trauma and toxic stress that will stay with these children for their lifetimes. The impact on their parents and caregivers is devastating. And, tragically, the impact of this administration's actions will be felt for generations, not only for these children and families but across our country.
Families who have come to our country are often already coping with the effects of stress and trauma in their country of origin or in that journey to safety, to asylum, to a better life. To further perpetuate that trauma to the most vulnerable amongst us is simply inhumane. Children deserve our protection and should remain with their families as they seek refuge.
So many have expressed outrage and pain, and a feeling of helplessness. To all of us—individuals who have devoted our professional careers to preventing child abuse, mothers and fathers who are grappling with the unfathomable, humans who simply know this is wrong—this is devastating, excruciating, and immoral. I share your pain, your anger, and your feeling of helplessness.
As a leading advocate for children, Safe & Sound will use our voice, when and where we can, to denounce this policy and these actions. We will speak out for the children whose voices have been silenced.
At Safe & Sound, we promise to continue to support and serve all families in a safe and loving space. We promise to treat all families with the dignity and humanity to which they are entitled. And, we promise to continue our work to eradicate child abuse from our community and our country.
Let us all be stewards of safety and civility, for each and every child. We must #KeepFamiliesTogether.
With deep respect and appreciation,
Katie Albright
With her newborn son cradled in her arms and 4-year-old daughter by her side, Maya walked into Safe & Sound's family support center unsure of her family's future. Maya's husband was out of work, and with a newborn, Maya wasn't able to work just yet. The family had shelter in public housing, but they were barely getting by — they needed food, personal health items, and hope.
How the San Francisco Child Abuse Prevention Center became Safe & Sound.
Earlier this month, I let you know that the San Francisco Child Abuse Prevention Center would be changing its name. Today, I am proud to announce that we are officially Safe & Sound.
For more than 44 years, we've been at the forefront of child abuse prevention. During these decades, our organization — in partnership with you and others — has made remarkable strides in protecting our city's children and advocating for their safety. Yet, every day we are reminded of how much more there is to do if we're going to achieve our goal of ending child abuse in San Francisco and reducing it in surrounding communities.
As we work towards this end, we felt one thing held us back from fully embracing this audacious goal — our name. Therefore, on September 26, the San Francisco Child Abuse Prevention Center became Safe & Sound.
Each and every day we work to create a society where children are safe, families are strong, and communities are sound.
Our journey to a new name took more than a year and a great deal of thought. As you can imagine, it was not easy giving up our cherished name, but we felt it was the right and necessary decision.
Safe & Sound allows us to unify our work. Today, we are many things — and names — to so many different people (such as San Francisco Child Abuse Prevention Center, TALK Line Family Support Center, Kids' Turn, Child Abuse Council, SafeStart, and more). By presenting our programs under a single name, we will significantly enhance the community's ability to identify our organization and seek our services.

Safe & Sound allows us to focus on safety. Though our mission is focused on child abuse prevention, our work is focused on creating a future without it. We work to create joyous childhoods where child abuse is no longer a concept.

Safe & Sound allows us to expand our impact. Over four decades we have woven child-focused policies and programs into the fabric of San Francisco. As we look to the future we will continue to reach far beyond the borders of San Francisco, scaling our model and sharing our successes to support the safety and well-being of children and their families everywhere.
On a very practical level we encountered several challenges with the name San Francisco Child Abuse Prevention Center. It's a mouthful, causing people to stumble through it and often forget the very key word of "prevention." And, the term "abuse" carries a stigma deterring the very families who need our services the most from seeking our support.
Make no mistake, our mission, our work, our programs, and our people remain the same.
We believe in a future where every child grows up safe, protected, and loved. Join us in taking a stand to make that a reality.
Stay tuned. Over the coming month, we'll be sharing with you our future initiatives as we work towards this reality. For now, take a look at how big this problem really is, how we're planning to reduce and ultimately end child abuse, and the work we do everyday to protect children in our community.
About a month ago at our annual Blue Ribbon Luncheon, I shared our vision with the 600+ supporters and advocates who filled Grand Ballroom at the Fairmont Hotel in San Francisco. Together, we not only raised more funds than ever ($750,000+) to support the work of the Prevention Center, but the energy around our mission of preventing child abuse and our goal of ending it in our city was palpable. It was a truly special day.
To all who joined us on May 12, thank you. To our chairs Wayne Osborne and Jill Woodman, and to our auction hosts David Glickman and Richard Pio Roda, thank you. To our keynote, Wes Moore your words will forever inspire me and call me to not just compassion but action — thank you. To each and every one of you, thank you for joining us in this work.
For those who were not able to be in the room with us, I would like to share with you my remarks — why it is I believe we can end child abuse. You can read them right here.