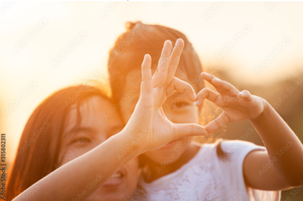 After fleeing her home country because of domestic violence, Amanda found herself staying with one of her four children in an emergency shelter in San Francisco. Unable to speak English, and faced with the legal process of a divorce and child custody without an attorney's support, it was the most challenging time of her life. That's when Amanda connected with Safe & Sound and things started to look up. With a contribution today, your generosity will help families like Amanda's receive the vital programs and services they need—not just to survive, but to thrive. 
After participating in nearly every available family strengthening service offered at Safe & Sound, Amanda's story has a new chapter of success. Amanda has custody of her four children (three of whom she had to petition to legally have with her in the U.S.), educational services for her son with special needs, stable housing, and a full-time job. It took a lot of work on Amanda's part, and the partnership of her Safe & Sound Clinical Care Coordinator, to create an individualized therapeutic plan and follow it through. From parenting classes that taught positive strategies for managing challenging childhood behavior, to access to a supportive caregiver community, Amanda parented her children through the challenges and gained tools that will support their family for a lifetime. She stays connected to Safe & Sound through our 24-hour TALK Line and parental drop-in services.
With the assistance and support of the Safe & Sound community—people like YOU—Amanda reached the goals she set when she first walked through our doors.
Our multilingual Clinical Care Coordinators connected Amanda to a pro-bono attorney to provide representation in her divorce and custody dispute, helped translate the paperwork she needed to obtain educational services for her son with special needs, and assisted in applying for affordable housing.
TALK Line volunteers provided 24/7 support through challenging times. Amanda received therapeutic telehealth and house visits before and throughout the pandemic.
Staff and volunteers managed our Playroom and parenting classes Amanda attended to improve her parenting skills.
And finally, generous donors gave what they could to make sure Amanda and her children received all of these services for free, including funds for childcare when Amanda was sick.
Your gift as a Safe & Sound community member ensures families like Amanda's are not alone during some of the biggest challenges faced by parents and children. 
WITH YOUR HELP AMANDA'S SUCCESS STORY CONTINUES!
Amanda's story does not stop here. She wants to attend a program that will build her skills and put her on a job path to improve her family's future. Your contribution is a vote of confidence and support for Amanda, and for all of the families that work with Safe & Sound.
Sincerely,

Melina León
Senior Program Manager-Care Coordination
Safe & Sound
P.S. Your gift to Safe & Sound will have double the impact. The Quest Foundation will generously match your gift dollar for dollar up to $100,000. Help us meet this challenge grant by mailing a gift today or donating online at: www.safeandsound.org/donate.
---
Partnering with communities to create a child & family well-being system
We are in the midst of a once-in-a-generation opportunity to reimagine the child welfare system. Most notably is new federal policy—the Family First Prevention Services Act (FFPSA)—that allows for federal dollars to be used to support families in which children are at "imminent risk" of entry into foster care. This pending policy and practice shift requires the creation of "community pathways" that allow families to access services and support without fear of over-reporting to Child Protectives Services (CPS).
In support of these changes, Safe & Sound, a community-based organization dedicated to strengthening families and ending child abuse invites you to read Creating a Child & Family Well-Being System: A Paradigm Shift from Mandated Reporting to Community Supporting—and support the recommendations.
The proposed paradigm shift from mandated reporting to community supporting is not a new idea, but one that has been proposed and championed by advocates, social workers, researchers, philanthropists, pediatricians, educators, and others across the country who have been informed by deep listening to families with lived expertise in the child welfare system.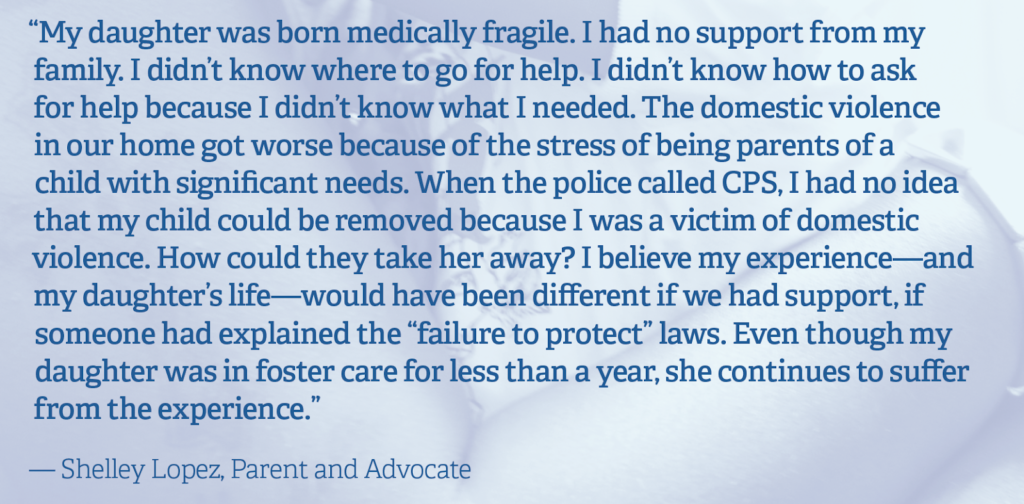 ---
What does the data tell us about mandated reporting in California?
432,736 children were subject to a CPS investigation between April 2021 – March 2022
56,079 children were found to be maltreated
This means only 13% of reports by mandated reporters are substantiated
---
This brief offers action steps in these five categories
Embrace a new frame
Advance legal and legislative reforms
Implement policy and practice reforms
Increase access to supports and services
Engage communities, tribes, and other stakeholders to guide reform
For more information on how to take action

---
Watch Our Webinar: Shifting From Mandated Reporting to Community Supporting
In case you missed it, on August 25th we hosted a Lunch & Learn on this topic as part of our series on The Facts and Faces of Prevention. Here is a link to the session recording, and we hope you will share it with your colleagues to expand the conversation on these much-needed reforms.
Type in the passcode: %@f1KA%K
WATCH THE RECORDING
---
We welcome your feedback! Please let us know if you have any questions or other feedback to share from reading this brief by emailing us (communityaction@safeandsound.org).
In gratitude for your support of children and families.
Katie Albright
Chief Executive Officer
Safe & Sound
Letter from Katie Albright
June 8, 2022

To my dear friends and partners of the Safe & Sound Community,

I have some important news to share with you. After much reflection, I have decided to step away from my position as President and Chief Executive Officer effective February 1, 2023. During the next eight months, I will be working closely with our Board, partners, and amazing team at Safe & Sound to find my replacement, and have committed to continuing as a special projects advisor until April 2023.

It's been almost sixteen years since I took on this role with the goal of fostering a collective vision to build a community that protects children, strengthens families, and ends child abuse. Together, we have accomplished so much over these many years.

While there is still more to be done, it is clear that Safe & Sound has built a strong foundation towards ending child abuse and creating conditions for all families to thrive. Our shared success includes contributing to the national framework for prevention, the statewide recognition of and commitment to family resource centers as a community pathway for prevention, and the local innovation of two-generation family-focused programming.

I am tremendously grateful to the talented and dedicated team of staff members and volunteers who reach thousands of children, parents, caregivers, and providers each year, as well as partner, educate, and advocate to ensure our community's wellbeing. In partnership with government and community leaders, we have advanced local and statewide initiatives that have improved family outcomes, contributing to a 67% reduction in the rate of child abuse and a 61% reduction in entries into foster care in San Francisco over the past 15 years. I am also deeply honored that the federal government named Safe & Sound to be one of nine primary prevention best-practices in the country, as well as provided funding to continue the Center for Youth Wellness' groundbreaking work to screen for adverse childhood experiences in primary care settings across the nation. I am humbled through our work to create a trauma-informed and healing organization focused on diversity, equity, and inclusion. And, I am overwhelmed with pride in our determination to bring together a multi-sector, public-private partnership to deliver emergency relief during the early months of this global pandemic that reached 43,000+ individuals through family resource centers and the San Francisco Family Resource Center Alliance and raised more than $25M+ for our community.

Looking forward, this is an exciting time for Safe & Sound. In the coming months, I will join with the Board and internal team to adopt our new strategic plan that is deeply committed to anti-racism and creates operational clarity, programmatic synergy, and financial versatility. I will work closely with the Board and my colleagues to ensure a successful leadership transition. The vision that together we are realizing will provide a robust onramp for the next leader of this organization that we hold so dear.

The decision to leave Safe & Sound has not been an easy one, particularly because of the incredible people with whom I am so privileged to work. I will always carry with me the deepest admiration for my Safe & Sound colleagues. The honor to work with excellent staff members, passionate volunteers, transformational government and community partners, committed donors, and a dedicated Board has been profoundly inspiring and full of joy. I appreciate your support, guidance, and friendship over these many years. I will treasure and certainly miss our time together.

We will have many opportunities over the coming months to connect. I look forward to staying in touch and getting together.

With deep appreciation and respect for the entire Safe & Sound community,



Katie Albright
Chief Executive Officer
---
Letter from Board of Directors Co-Chairs
P. Wayne Osborne & Sarah Whitelaw
June 8, 2022
 
Dear Safe & Sound Community,
 
We have some important news to share. After much reflection, Katie Albright has decided to step away as our President and Chief Executive Officer effective February 1, 2023, having then served our community for sixteen years. On behalf of the entire Safe & Sound Board of Directors, we wish to convey our deepest gratitude to Katie for her outstanding leadership and service. Her leadership will be deeply missed.
 
This time marks one of reflection and appreciation as we consider all that the Safe & Sound community has accomplished during her tenure. Leading always with her values, Katie has demonstrated her commitment to pursuing a journey of equity and inclusion over her tenure – never wavering, indeed stronger, in crisis and challenge. Under her leadership, Safe & Sound has become a nationally recognized children's advocacy organization – named one of nine best primary abuse prevention practices in the country – dedicated to improving the safety, health, and well-being of children and families through services, education, collaboration, and advocacy. Throughout the challenges of the global pandemic faced these past few years, Katie has been the inspiring and trusted leader that our community needed. Her constant calm and action over this time has provided stability and hopefulness – mobilizing government and community partners to deliver emergency relief and monetary support to thousands of children, parents, and caregivers in our community during their greatest time of need.
 
Thanks to the incredible and very talented team of employees and volunteers, Safe & Sound has become a trusted community anchor for thousands of families – a place for caring and responsive support and services. We are recognized as a national innovator, effective policy advocate, and transformative leader in child and family well-being. And, through the team's talent, we are known to be a constant collaborator with well-established and effective public-private partnerships, as well as funding relationships with numerous child-serving organizations throughout the country, state, region, and city. These collaborations and partnerships have profoundly broadened and deepened the impact for the community.
 
Together with the full Board, we are extremely confident about our future. Given our reputation, visibility, and financial stability, we are well-positioned to attract a highly qualified and visionary leader for our next chapter. Safe & Sound's Board is entrusted to hire our next CEO and, with that, helping to set the path to our future. We will remain vigilant to our goals that all children are safe and families thrive as part of an equitable and anti-racist system that promotes well-being. Initially, the Board will focus on a thoughtful approach to this leadership transition, developing ways for the community to become involved, and supporting Safe & Sound through this time of change. The Board will actively work with the internal team of employees to set the path and to inform the profile and search for the next leader, and is committed to engaging clients, volunteers, and community members throughout the transition.
 
Katie will continue to lead the organization until the beginning of February 2023 as we identify a new CEO, and work to ensure a smooth transition. She has also agreed to stay on as a special projects advisor through April 2023 to continue supporting the transition. Looking forward, we will create opportunities to celebrate Katie's leadership and thank her for service to our community. Until then, please join us in expressing profound appreciation to Katie for her contributions to our community.
 
Very truly yours,

P. Wayne Osborne & Sarah Whitelaw
Co-Chairs, Board of Directors

Seeking the Next Cohort of Pediatric Practices for Participation
SAN FRANCISCO and EAST WINDSOR, N.J., June 6, 2022 – Safe & Sound's Center for Youth Wellness (CYW), the New Jersey Chapter, American Academy of Pediatrics (NJAAP), today announced that it is seeking the next cohort of pediatric practices for participation in its Trauma-Informed ACEs Screening & Intervention Evaluation Project Echo (TASIE Project). 
Safe & Sound was awarded a grant from the Health Resources and Services Administration (HRSA) and is working in partnership, through the CYW, with the New Jersey Chapter of the American Academy of Pediatrics (NJAAP). The grant awarded is to launch a 3-year initiative called the "TASIE Project." The aim is to develop a scalable model to help pediatric healthcare teams to integrate ACEs screening, trauma-informed, and strengths-based interventions into a pediatric primary care setting.
According to the National Survey of Children's Health, 34.8 million children across the United States are impacted by Adverse Childhood Experiences (ACEs). ACEs are exposures in childhood to abuse, neglect, parental incarceration, divorce, or domestic violence that have been shown to affect virtually every domain in which a child functions. ACEs are associated with health impairment across the life course and are strongly related to the prevalence of numerous health problems.
The CYW and NJAAP team will train and provide coaching to practice sites to implement an ACEs screening and intervention pilot using the Pediatric ACEs and Life Events Screener (PEARLS) tool and the Seven Domains of Wellness. In addition, the practice sites will participate in a 9-month Quality Improvement Project ECHO (Extension for Community Health Outcomes). Hackensack Meridian Health (HMH) reviewed the project and found that it does not meet the definition of research involving human subjects as defined by DHHS and FDA regulations. Therefore, it did not require review and approval by the HMH Institutional Review Board.
Selected practices will be provided with a $15,000 stipend as well as CME/MOC Part 2 and 4 Points. The RFP Application for Cohort 2 will open on June 7, 2022. Applications will be due on July 29, 2022. Interested pediatric practices should visit the "TASIE Project" website (www.njaap.org/tasie) for eligibility requirements, important dates, and informational webinars. Cohort 2 will run from September 2022 through May 2023.
Contact:
---
About Safe & Sound
Safe & Sound, a nationally recognized, San Francisco-based child advocacy organization, seeks to strengthen families and end child abuse through trauma-informed, evidence-based services, education, partnership, and advocacy. Safe & Sound has helped lead systems change that has reduced the rate of child abuse in San Francisco by 65% and reduced entries into foster care by over 50% in the last 15 years. Founded in 1973, Safe & Sound has worked for nearly five decades to prevent child abuse and reduce its devastating impact. Safe & Sound recently merged with the Center for Youth Wellness leading national efforts to advance pediatric medicine and transform the way society responds to children exposed to ACEs and toxic stress. Safe & Sound's vision is to end child abuse in San Francisco in two generations (50 years). Each year, its programs reach approximately 10,000 children, parents, and caregivers throughout the San Francisco Greater Bay Area. Website: https://safeandsound.org/
About NJAAP
New Jersey Chapter, American Academy of Pediatrics is dedicated to improving the health and well-being of children in the state of New Jersey. The growing Chapter represents over 1,900 pediatricians and other pediatric healthcare professionals located in every county throughout New Jersey. NJAAP provides a strong voice on behalf of children, the adults in their lives, and the pediatricians who care for them. The Chapter is a Project ECHO Hub and a Pediatric Portfolio Sponsor for the American Board of Pediatrics, which authorizes the Chapter to develop Part 2 and Part 4 activities including those that are focused on QI and improving professional practice. NJAAP has a long history of providing QI education to pediatric practices. In the last five years alone, NJAAP has offered 13 MOC Part 4 programs on topics including ACEs, Child Abuse and Neglect Prevention, and Mental Health. Website: https://njaap.org/
About HRSA
HRSA programs provide equitable health care to people who are geographically isolated and economically or medically vulnerable. HRSA's mission is to improve health outcomes and achieve health equity through access to quality services, a skilled health workforce, and innovative, high-value programs. The Maternal and Child Health Bureau administers programs, supports research, and invests in workforce training to ensure the health and well-being of mothers, children, and families across their lives. In partnership with states and communities, the Bureau supports health care and public health services for an estimated 55 million people nationwide.
This project is supported by the Health Resources and Services Administration (HRSA) of the U.S. Department of Health and Human Services (HHS) as part of an award totaling $960,000 with no percentage financed with non-governmental sources. The contents are those of the author(s) and do not necessarily represent the official views of, nor an endorsement, by HRSA, HHS, or the U.S. Government. For more information, please visit HRSA.gov.
We recognize and honor the memory of Madeleine K. Albright, 64th United States Secretary of State and first female secretary of state in U.S. history. She was also the loving mother of our CEO Katie Albright. We extend our thoughts and prayers to her family.
– Sarah Whitelaw & Wayne Osborne, Co-Chairs of the Board of Directors
We strongly condemn the recent actions of Texas Governor Greg Abbott to classify gender-affirming care for transgender children as "child abuse." 
Simply stated, gender-affirming care for transgender children is not child abuse. It is, in fact, a demonstration of love and acceptance. By contrast, the Texas action is abusive and ignores the facts that transgender children and adults are at greater risk of depression, thoughts of suicide and attempted suicide. 
"As a mother to a transgender daughter adopted from foster care, I have seen the sheer joy and relief in my child when she was able to show up in the world as her true self. Labeling that experience as caregiver "abuse" will keep so many children imprisoned in their own bodies and minds—or in the loneliness and trauma of the child welfare system—perpetuating the anxiety and depression they too often already face due to stigma and feelings of fear and isolation. No one has the right to criminalize the love and care ALL children need and deserve." Beth K., foster-adopt mother.
Equating gender affirming care with child abuse is a direct assault on the purpose of child protection laws and diverts child protection resources from legitimate reports of suspected child abuse, thereby endangering children. Texas' action will require doctors, nurses, teachers, and other adults who have contact with transgender children to report purported "abuse" to the Texas Department of Family and Protective Services or face possible criminal penalties.
We join San Francisco's leadership in strongly denouncing the Texas action, including:  Senator Scott Wiener – "California will always have the backs of LGBTQ youth & their families."  Mayor London Breed – "In San Francisco, we will continue to support all of our LGBTQ youth, the parents who love them, and our entire trans community." Trent Rhorer, Executive Director of the San Francisco Human Services Agency, along with his colleagues throughout California at the County Welfare Directors Association of California, and their Executive Director, Cathy Senderling, also noted  the pernicious effect of this action "in calling on child welfare agencies for political purposes when abuse or neglect are not present runs the risk of pulling our already limited staff resources away from vulnerable children and youth who are victims of, or at risk of, abuse and neglect."
As an organization dedicated to strengthening families and ending child abuse, we stand with others from across the county to urge Texas leadership to reject attempts to use laws that are meant to protect children, to instead cause them great harm.
---
Katie Albright is an attorney and President & Chief Executive Officer of Safe & Sound, a San Francisco-based children's advocacy organization dedicated to strengthening families and ending child abuse through evidenced-informed services, education, partnerships, and policy. Safe & Sound is part of a national network of family resource centers that partner with families each day to promote positive outcomes for children, caregivers, and communities.
By: Katie Albright and Jody Levison-Johnson
January 28, 2022
Children thrive on positive and nurturing relationships with caregivers and other adults in their lives.
This means supporting a child starts with supporting their parents and caregivers, and too many are overloaded right now. COVID-19 has created immense burdens for people who are caring for children, and they are trying their best to stay afloat — from financial strains caused by job loss, to child care shortages, to the mental stress of keeping their families healthy. Too often, parents do not know where to turn for assistance when they need it. Even before the pandemic, a national survey of parents with young children found 48% did not receive the help they needed, with 8% saying they get no support at all.
We can relieve some of this stress and improve the well-being of children by providing support to families who may be struggling. Sixty percent of children who come to the attention of child protection systems do so because of concerns related to neglect, which can often result from living in poverty. If we want to prevent neglect, we need to address the root causes and ensure families are financially stable. By investing in preventive resources, public health approaches, and financial support for children and their families, we can implement effective long-term solutions that keep families together and ultimately keep young people safe.
We cannot afford to be solely reactive and only pay attention after a crisis occurs. Research shows that by working proactively to address immediate needs with concrete financial support, we can prevent families from needing child welfare involvement. Entities like Family Resource Centers and nurse home visiting programs are two best-in-class examples of how providing concrete supports — housing, income, and food — can alleviate the need to place children in the foster care system and separate them from their home, communities, and culture.
Fortunately, child protection in our country is changing for the better — from a system that responds only after a child has been harmed — to one that is more focused on the needs of children and families from the start. As representatives of organizations that work across the child protection spectrum from prevention to placement to reunification, we welcome this change. We have seen what works, and what does not.
Some may argue that removing children from their families, rather than finding ways to proactively support the family, is the right approach. Science, however, shows that further harm may occur when children and youth are taken from their support systems. Our focus should be on minimizing this trauma, especially for the majority of families who do not require removing a child from their home.
When parents are unable to care for their children, placing children with other family members can be the next best option. Studies have shown that child welfare policies that prioritize placing a child with their relatives or other guardians have significant benefits for the child. By investing in kinship care, we can help minimize a child's trauma, increase stability and permanency, improve mental and behavioral health outcomes, and create an easier transition for these youth as they age into adulthood.
Further, our solutions must reckon with racism that is deeply embedded within the very system intended to protect children. Our children pay the price when we ignore this ugly reality. The structural flaws of the child protection system have a disproportionately negative impact on Black and Indigenous children compared to their white peers. Because of systemic and structural inequities, the child protection system is more likely to separate children of color from their parents and place them in foster care; place them with multiple families or in group homes; and reunite them less frequently with their birth families or establish a permanent home. All of this creates conditions under which children of color are less likely to attain equal social, behavioral, and educational outcomes.
Taken together, this paints a clear picture: We need to reimagine the child protection system. By funding programs that support housing infrastructure, child care assistance, and medical care, we can relieve significant stress for families — stress that we know has negative downstream effects on children. When we support parents and caregivers with the resources they need, everyone benefits. We all want what's best for kids. Let's start with their parents.
Katie Albright is an attorney and president & CEO of Safe & Sound, a San Francisco-based children's advocacy organization dedicated to strengthening families and ending child abuse through evidenced-informed services, education, partnerships, and policy. Safe & Sound is part of a national network of family resource centers that partner with families each day to promote positive outcomes for children, caregivers, and communities.
Jody Levison-Johnson is a licensed clinical social worker with nearly 30 years of human service experience and the president and CEO of Social Current, a Washington, D.C.-based organization formed from the Alliance for Strong Families and Communities and the Council on Accreditation joining forces. Social Current creates and nurtures relationships among social sector organizations and drives the future of the sector through policy, advocacy, knowledge exchange, certification, and accreditation.