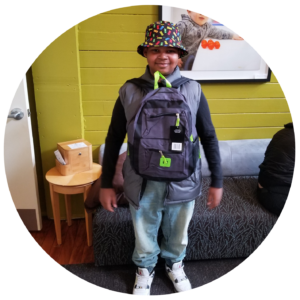 It was August, almost time for her four kids to go back to elementary school for the new school year. They needed so many new school supplies, and Jessica could barely afford the family's rent. About a year before, she left an abusive and violent relationship with the children's father and was still struggling to raise her kids on her own. She felt overwhelmed, isolated, and wasn't sure where to turn for help.
Then Jessica called Safe & Sound's parental stress TALK Line. A friendly, trained volunteer answered the call and listened to her. She convinced Jessica to come into Safe & Sound's family support center where a long-time and generous donor, Old Republic Title Co., had once again donated backpacks and school supplies like crayons and thumb drives. They would all start school with a backpack full of supplies!
Throughout my time on the Safe & Sound Board – and, for the last three years, as its Chair – I have been amazed by all that the Safe & Sound staff and volunteers do to provide families and children with the support, education, and resources to prevent child abuse and neglect.
We reach nearly 12,000 parents, children, and community members every year and provide evidence-based counseling, classes, and support groups for parents and children to strengthen families and keep kids safe.
We teach kids, parents, teachers, and police officers how to recognize and respond when a child is not safe.
And we partner with other organizations and government agencies to build strong communities and responsive systems that protect children and set them on the path to healing.
And it's working: over the last 15 years, San Francisco has reduced rates of child abuse by over 65% thanks to a deep commitment from our government partners and programs like ours.
This year will be my last on Safe & Sound's Board. I've been immensely proud of the work that our board, our employees, and all of our volunteers have done together over the last decade. I'm also enormously grateful for your partnership because the hard work and successes we achieve every day are made possible by the support of friends like you.
Please join me in taking a stand for safe children, strong families, and sound communities by giving a gift to Safe & Sound and help families like Jessica's thrive.
Thank you for helping Safe & Sound to ensure that every child grows up safe, protected, and loved.
Very truly yours,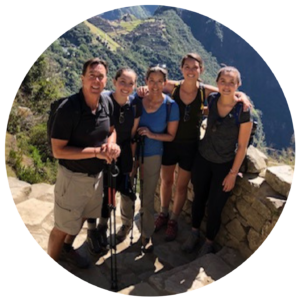 Melinda Ellis Evers
Chair of the Board
P.S. This year your gift to Safe & Sound will have double the impact: the Quest Foundation has issued a $100,000 challenge grant and will generously match your gift!
Last week, Safe & Sound was honored to participate in UC Berkeley's Company Visits Program and welcomed nine undergraduate students on a tour of our Haight-Ashbury location. These students selected Safe & Sound as one of the organizations to visit in their Bay Area orientation program, and we were thrilled to share insight into our work supporting children and families.
Tommy Thach, Safe & Sound's Volunteer & Community Engagement Manager, began the tour of our historic Victorian firehouse by describing the issue of child abuse and its impacts on our community, and provided an overview of our work and approach towards child abuse prevention.
From the Parent Drop-In (PDI) Room to the TALK Line space on our second floor, each department's work serves and supports families. The tour ended in the Therapeutic Children's Playroom, where staff members from the client care, operations, and development departments participated in a panel discussion about their responsibilities and individual experiences in their line of work, offering insight and advice on working in the non-profit sector and at Safe & Sound.
We are so grateful to the UC Berkeley's Company Visits Program for inviting us to host them and share our knowledge on children and family services and the non-profit sector. We thank all of the students and coordinators for spending the afternoon with us and wish them a successful school year, and the best of luck with their career paths and professional development. Thanks for letting us share about our work, and how Safe & Sound is working towards a future where every child grows up safe, protected, and loved.
Go Bears!!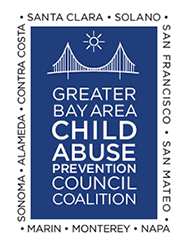 Safe & Sound CEO Katie Albright is a member of The Greater Bay Area Child Abuse Prevention Council Coalition, whose mission is to provide leadership and support collaboration in the child abuse prevention community and promote culturally responsive, fair, respectful, and effective services to end child abuse and neglect.
This 11-member coalition is working diligently to dissuade the federal administration from weakening our country's most important and effective anti-hunger program, the Supplemental Nutrition Assistance Program (SNAP) (formerly food stamps; now called CalFresh in California). SNAP provides food assistance to thousands of low-income people, primarily families with children, and seniors and individuals with disabilities — many of whom are already burdened with high housing costs and other expenses such as childcare.
The proposed change would limit eligibility and the way that states determine who qualifies for food benefits. Millions of people will be negatively impacted – including tens of thousands in the Greater Bay Area – effectively they'll have to look elsewhere for vital nutrition every month.
Those who work directly with families know that this policy change will have serious, real-world consequences for many children. In the words of representatives from the San Francisco-Marin Food Bank, "It's shortsighted, cruel and needs to end now."
HERE'S HOW YOU CAN HELP:
JOIN THE GREATER BAY AREA CHILD ABUSE PREVENTION COUNCIL COALITION and add your comments by September 23 to this petition from the Food Research and Action Center (FRAC) to urge the federal government to stop hurting families: http://bit.ly/ProtectFoodStamps
LEARN MORE about the issue and read a statement from state and national advocates for children and families from the Western Center on Law and Policy: https://wclp.org/statement-on-trump-administrations-proposed-rule-to-cut-snap-food-benefits/
SPREAD THE WORD to your networks and encourage your friends, family, and colleagues to get involved. Our voices are stronger together!

Sample Post: Don't let the Federal Government cut #foodstamps for vulnerable community members! It's shortsighted, cruel and needs to end now! Sign the petition by Sep 23 at http://bit.ly/ProtectFoodStamps
When our public policy does not keep pace with the needs of our communities, we perpetuate hardship on our families. We should instead be strengthening them, supporting them, and helping them raise children that are safe and healthy.
###
The Greater Bay Area Child Abuse Prevention Council Members:
Colette Katuala (Alameda) • Carol Carrillo (Contra Costa) • David Maradei (Monterey) • Michele Grupe (Napa) • Katie Albright (San Francisco) • Jane Smithson (San Mateo) • Steve Baron (Santa Clara) • Susan Ferdinandi (Solano) • Robin Bowen (Sonoma) • Michele Grupe (President) • Kris Murphey (Coordinator)
Last week, the National Child Abuse Coalition (NCAC) delivered a letter to Speaker Nancy Pelosi, Leader Kevin McCarthy, Leader Mitch McConnell, and Leader Charles Schumer, expressing grave concern and alarm over the ongoing mistreatment of children through government-sanctioned conditions and separations at the United States border.
Safe & Sound is proud to stand in solidarity with the NCAC and 220 other local, state, and national children- and family-serving organizations across 40 states urging Congress and the Administration to immediately end these abusive acts toward children.
The entirety of the letter is shown below; click here to view the undersigned agencies.
[drawer_container]
"The undersigned organizations, which are committed to the prevention of child abuse and neglect and the well-being of children, write to express our grave concern with the ongoing treatment of children at the United States border. As child welfare advocates with expertise in the impact of trauma on children, we are deeply alarmed by the reports of government-sanctioned conditions and separations, which knowingly expose children to emotional abuse and physical injury and draw clear comparisons to child abuse. We urge Congress and the Administration to immediately end these abusive acts toward children.
Despite an official end to the Administration's Zero Tolerance Policy, recent reports have made clear that the federal government continues to separate children from parents and other caregivers with whom they arrive, including aunts, uncles, grandparents and cousins. Reports have also made clear that the standard of risk needed to justify a child's separation from a caregiver is often not being met; therefore, the government's actions are decidedly not in the best interest of the child and causing serious emotional harm. These ongoing separations are unjustified, unlawful, and deeply detrimental to children's wellbeing.
Separation, detention, cages, deplorable physical and hygiene conditions, bullying and intimidation by guards, and being held in enormous institutional facilities reflect traumatic practices in direct conflict with what science tells us about healthy child development. Traumatic experiences, toxic stress, and prolonged exposure to unsafe conditions, like those children are experiencing in ICE and CBP custody, have lifelong consequences for children. The U.S. government must stop intentionally subjecting children to these experiences, separating children from parents and caregivers, and holding them in conditions of confinement that violate state child abuse statutes across the country.
It is unconscionable that the federal government would sanction conditions of confinement for children that can be equated to child abuse as part of any policy. For both U.S.-born children and immigrant children, the government has a responsibility to ensure safety and prevent an unreasonable risk of harm. The current policies at the border do not meet this minimal standard.
We urge the Administration take swift action to ensure children are never detained for more than 72 hours in CBP facilities and to ensure that all CBP facilities that temporarily house children provide safe conditions that do not expose children to an unreasonable risk of physical or mental harm. We also call on the U.S. Congress to take swift action if the Administration will not. The members of this Coalition are ready and eager to join with the Administration and the U.S. Congress to consider how to best achieve this goal."
[/drawer_container]
Recently, Walter & Elise Haas Fund Executive Director Jamie Allison spoke with Safe & Sound CEO Katie Albright as part of their Betting on the Bay interview series, in which local leaders share their visions for a vibrant and resilient region.
We are grateful to Jamie for the opportunity to discuss our vision for Bay Area children, and for her leadership at the Walter & Elise Haas Fund.
Click below to read the interview./
Children who experience abuse may require help to recover. Parents who want to help their child recover often have to choose between working to pay for living expenses and medical treatment or being there for their child after the child has been abused. Children who suffer from ongoing medical problems after abuse can qualify for Supplemental Security Income which will give the parents money to help pay for additional treatment for the child or living expenses so that their child can focus on healing. Here's a little more information on how your child could qualify for benefits offered by the Social Security Administration:
Medically Qualifying For Supplemental Security Income After Abuse
Children who are traumatized can develop a number of serious health problems. Often physical and mental conditions occur together. A child may develop chronic pain as well as display the symptoms of PTSD and chronic after stress. Or a child could develop OCD after trauma. Some of the health problems and symptoms that are often seen in children who have been abused include:
hypervigilance

anxiety, depression

aggression or withdrawal

poor academic performance

frequent absences

weight loss or weight gain

sleeping difficulty with frequent nightmares

poor hygiene

appearing fatigued
All of these symptoms can contribute to a child's eligibility for disability benefits. The conditions that qualify a child to receive SSI benefits can all be found online in the Social Security Administration's Blue Book. The Blue Book lists all of the conditions that affect children who have been abused and what criteria must be met in order to qualify for benefits. For example, in order to qualify for SSI benefits a child with PTSD would need to demonstrate symptoms like the following:
Hypervigilance

Easy startle response

Insomnia

Anxiety
Medical documentation of the child's condition is required in order for the application to be approved. Statements from people who know the child and can talk about the severity of the child's symptoms like counselors, therapists, police, teachers, and more can also be submitted with the application for SSI for the child. The more medical evidence you have on your side showing how your child's life has been affected, the more likely he or she is to be approved.
Parents Need To Qualify Financially
The child needs to medically qualify for SSI benefits, while the parents need to qualify financially. There are income limits that apply to SSI benefits because SSI was created to help low-income families who are struggling to provide the care and treatment their child or children need.
In order to qualify for Supplemental Security Income, your total household income cannot exceed the income limits listed by the SSA. The income cap is set on a sliding scale that changes depends on how many adults live in the home and what their combined income is. When you submit an application for SSI for your child you will need to submit financial documents like your federal taxes for the previous year, W-2s, pay stubs, and other documents.
Apply For Supplemental Security Income
When you're ready to apply for SSI you will need to find your local SSA office and make an appointment. At your appointment, an employee will help you fill out the application and make sure that you have all the documentation you should submit with the application.
Helpful Links
SSA: https://www.ssa.gov/
SSA Blue Book: https://www.ssa.gov/disability/professionals/bluebook/ChildhoodListings.htm
Income Limits: https://www.ssa.gov/ssi/text-child-ussi.htm
Medical Evidence: https://www.disabilitybenefitscenter.org/glossary/acceptable-medical-source
More On SSI: https://www.disabilitybenefitscenter.org/supplemental-security-income/how-to-qualify
SSA Offices: https://secure.ssa.gov/ICON/main.jsp  
Information provided by the Disability Benefits Center.
Safe & Sound is honored to be awarded the 2018 Platinum Seal of Transparency from GuideStar, the world's largest source of nonprofit information, recognizing that the organization is "intentional about measurement and learning in order to maximize the difference you are making in the world." GuideStar gathers, organizes, and distributes information from over 2.7 million U.S nonprofits, and allows nonprofits to share their goals and mission with 9 million visitors each year.
"We are thrilled and grateful to be validated for our work on behalf of children and families in our community," said Katie Albright, Chief Executive Officer of Safe & Sound. "Safe & Sound is committed to transparency and providing meaningful data to evaluate the organization's effectiveness and impact." 
Safe & Sound is one of just ten human services nonprofits with a Platinum designation in the city of San Francisco. To receive this honor, GuideStar requires organizations to disclose extensive information, including in-depth background on finances; a summary of organizational targets and goals; and metrics about results and progress toward its mission. In addition to this rating, Safe & Sound has been a 4-star Charity Navigator organization for the past four years, with a score of 94.96/100. 
Safe & Sound is a children's advocacy organization dedicated to strengthening families and ending child abuse in our community.