Sometimes we all need a little help, but it's not always easy to ask. Ms. Yang's son needed a new pair of shoes after his current and only pair had holes from years of use. The two of them also needed food as the financial uncertainty of a pandemic-impacted city collided with other barriers for Ms. Yang. The first barrier she would have to overcome would be asking for help.
Having recently immigrated from her home in China and with limited knowledge of English, Ms. Yang had been having difficulty finding housing, clothes, food, and other resources for herself and her son. This was particularly true having also left a violent relationship with her son's father. At first, she came in quietly to our family support center to find the few items for her everyday needs, unaware of all the clinical services, trauma-recovery support groups, and parenting classes available at Safe & Sound. She just wasn't comfortable asking for help and, therefore, didn't explore what resources might be available.
As Safe & Sound's Parent & Child Education Manager, I want each family to have the knowledge, resiliency, basic resources, and connections in the community to support a strong family and healthy home. I met Ms. Yang a few months ago and reached out to offer help. Safe & Sound has been actively working towards providing more inclusive services, including the expansion of Chinese language translation services. Ms. Yang speaks Mandarin and fortunately, so do I.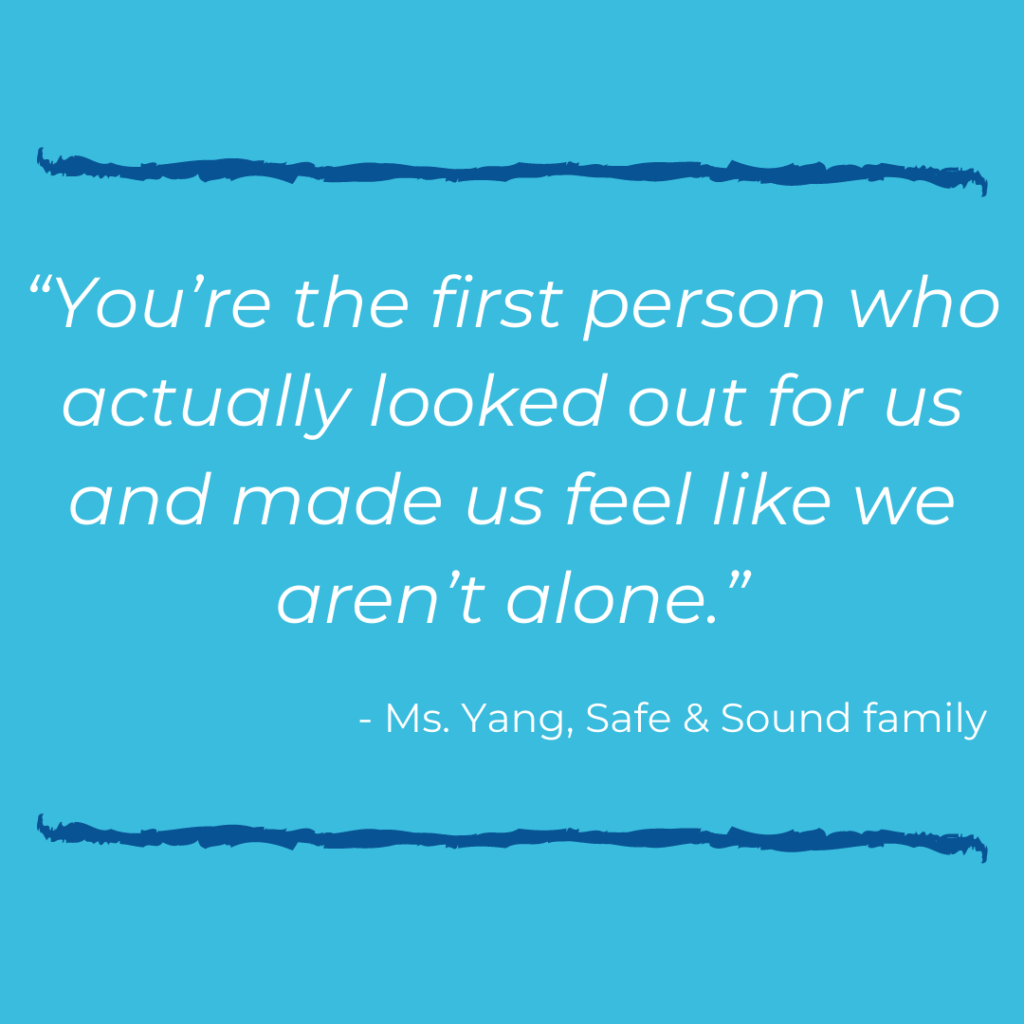 Ms. Yang expressed how grateful she was to have someone with whom she could speak in her native language. It made a difference, and through our shared language, we developed a strong rapport. We spoke in-depth about her homeland, why she immigrated to the US, and the courage she found within herself to leave the domestic violence to protect herself and her son.
During the past several months, I have stayed in touch with Ms. Yang, knowing that she would need more support to maintain stability in her home and safety for her son. Through our coordinated programming, Safe & Sound partners with caregivers to build family strengths and supports them with parenting classes, educational workshops, and basic needs.
Safe & Sound has helped Ms. Yang fulfill her family's needs for food through our pantry program and provided personal hygiene products. Tapping into my own Chinese American culture, I understood that it was really difficult for Ms. Yang to ask for help even when she really needed it. Through our conversations, I connected Ms. Yang with resources around the City to help with language translation for virtual family court to secure her son's child support and advocacy for other community resources.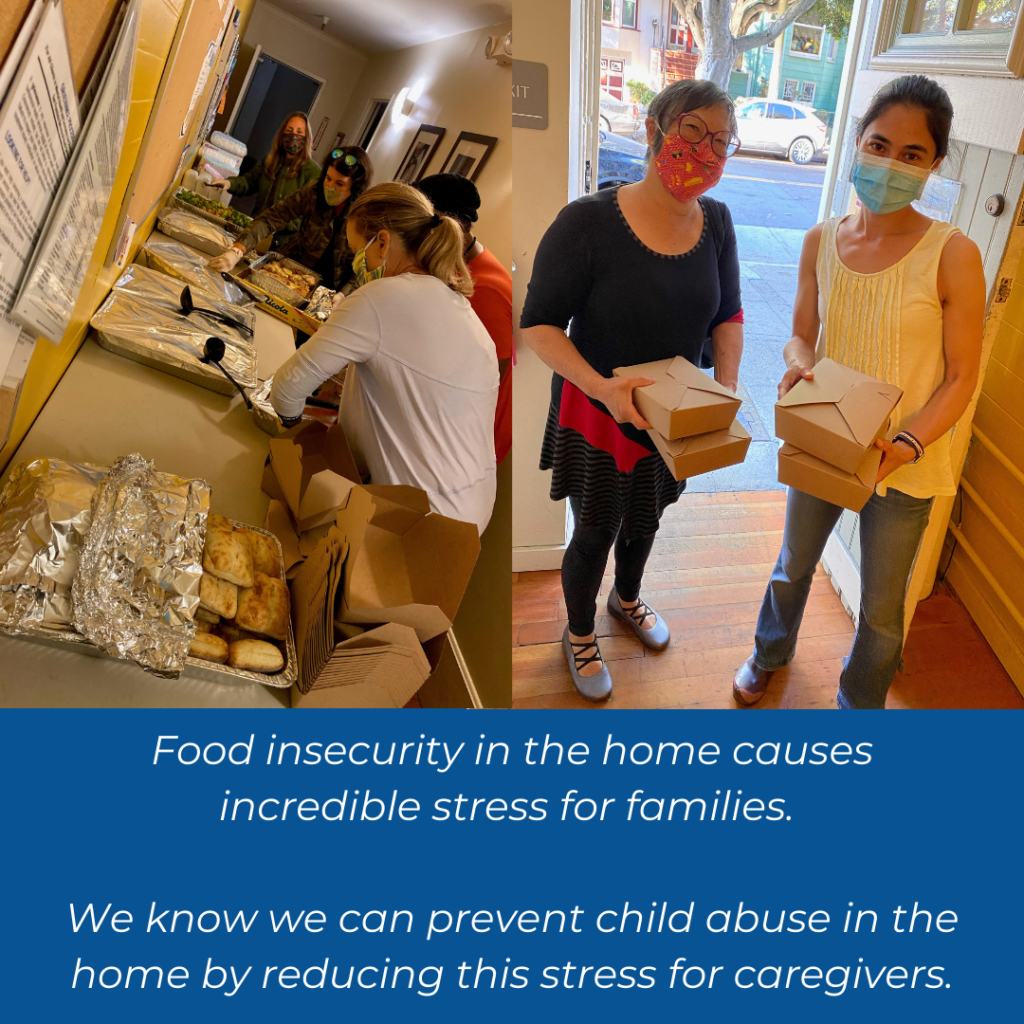 It can be hard to ask for help, yet we know that as family stress escalates, so does the risk of child abuse. Ms. Yang developed the courage to assess her stressors and worked with me to find solutions to support and protect her family. Working together, Safe & Sound is here through our 24/7 TALK Line, our family support center, and socially-distant connections to ease isolation and nurture resilience. Through a range of one-on-one services, community education, partnerships, and policy, we bolster our ability to prevent child abuse and reduce its devastating impact.
We need YOU too! Especially during this challenging year, you can volunteer or provide a year-end gift to our programs for stabilizing support to families. Your generosity will help Safe & Sound build a society where children are safe, and ultimately where we can end child abuse in our community.
Thank you for considering a gift to Safe & Sound that will continue this important work in the community to keep children safe and free from abuse. I know it has been a unique year with extreme challenges, but one thing remains true — together we can overcome these obstacles and thrive.
Best,

Christine Juang
Parent & Child Education Manager
P.S. This year your gift to Safe & Sound will have double the impact. The Quest Foundation will generously match your gift dollar for dollar up to $100,000. Help us meet this challenge grant.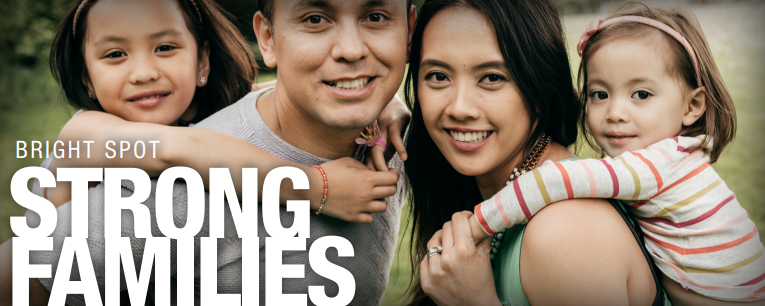 Safe & Sound is excited to be highlighted by Casey Family Programs in their recent "Bright Spot", which focuses on our programs and services provided at our family support center on Waller Street in San Francisco. Casey Family Programs works in all 50 states, the District of Columbia, and two territories and with more than a dozen tribal nations to influence long-lasting improvements to the safety and success of children, families, and the communities where they live.
For many years now, we have partnered with Casey Family Programs to help expand services and resources available to families across the country. In 2019, San Francisco was honored by Casey Family Programs with the JIM CASEY BUILDING COMMUNITIES OF HOPE AWARD, which recognizes communities that have brought together public, business, nonprofit, philanthropic and community partners to improve the safety and success of children and their families.
Check out Casey Family Program's recent post about our work.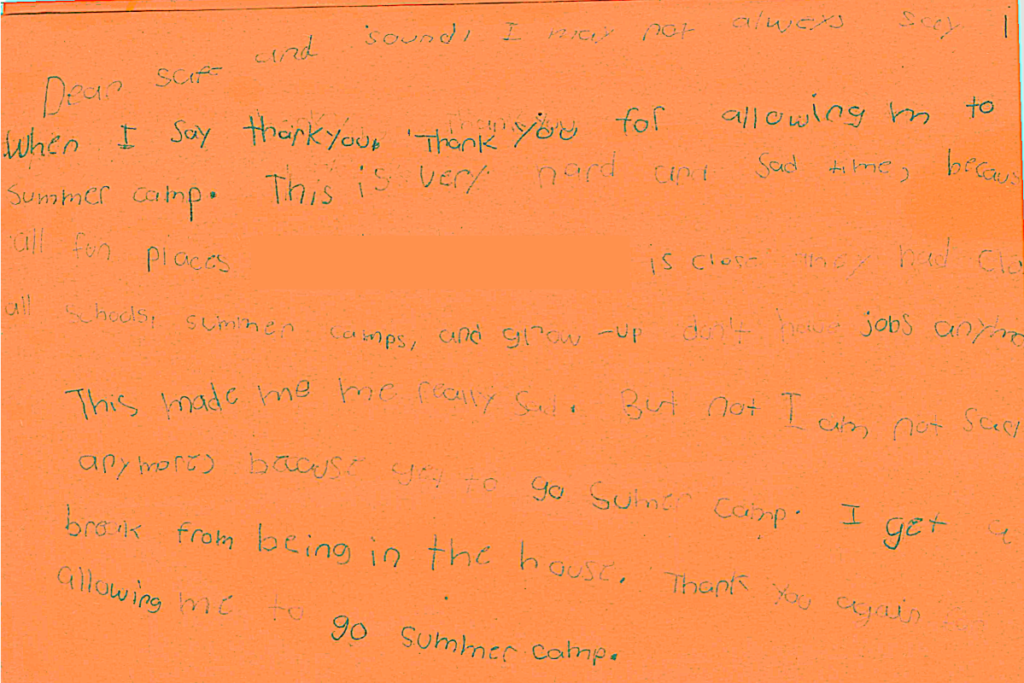 "Dear Safe & Sound, I may not always say I when I say thank you. Thank you for allowing m to summer camp. This is very hard and sad time, because all fun places is closed. They had closed all schools, summer camps, and grow-up don't have jobs anymore. This made me me really sad. But now I am not sad anymore because get to go summer camp. I get a break from being in the house. Thank you again for allowing me to summer camp." 
Z, Almost 10.
---

COVID-19 has changed our lives. It has challenged us with circumstances that our community and the world have never before experienced. Whether this means navigating shifting routines, trying to stay connected with friends and family, or juggling work-life balance, each one of us is doing our best to figure out how to move forward while so much of our lives and community remain shuttered. 
For parents and families already needing support before COVID-19 disrupted lives, the impact is profound. Safe & Sound has been working for 45+ years to safeguard families from the big and small hardships in life because we know that supporting families through challenges is one of the keys to protecting children and ending child abuse. Two of our longest-serving staff members have each dedicated 27 years to this work and hold the history of the organization, as well as the stories of many individuals who have walked through the doors or called our 24/7 phone line.
Helena Edwards is Senior Program Manager of Family Advocacy, and Molly Jardiniano is Associate Director of Children & Family Services. For many of the families that we serve, Helena's and Molly's faces represent Safe & Sound. Some visited as children and now bring their own kids to our Playroom because of the deep connections with Molly and Helena. And despite the challenges and difficulties of COVID-19, both have remained in close touch with families. Read more for their first-hand experiences helping families through the challenges of this pandemic.
[center_content]

[/center_content]

More than one pandemic: COVID-19, economic uncertainty & racial injustice
Families are in need of a lot right now. In the first few days of COVID-19, we began by trying to support families experiencing fear and anxiety, to understand the pandemic, and seek out stability and safety. In the first month, it became abundantly clear that families needed financial support. Housing and job insecurity remain the biggest concern and continue to take a toll on parents. They need help with rent, they need help looking for income, and they need basics like groceries and household supplies. 
But we know from our work rooted in Protective Factors that support doesn't stop there. Many families have expressed the need to be connected back to their community, both physically and emotionally. Social distancing has left parents feeling isolated as well as concerned for their kids' physical and mental health. Multiple families have requested bicycles for their children, worried about the lack of physical activity — especially concerning for a family with a history of diabetes and heart conditions. Others have seen a change in their child's eye prescriptions due to the increase in screen time. If kids were having difficulties before, this environment exacerbates any mental, physical, or behavioral issues. 
However, Molly points out that "it's not only just COVID. I see so many different pandemics happening: the racism pandemic, the economic pandemic — the world really has felt like it's blowing up but we all have to stay in our private homes to not catch COVID." 
Particularly for Black, Indigenous, People of Color (BIPOC) families, parents are struggling to talk to their kids about the work of #BlackLivesMatter and educating young minds about these topics in ways they can understand. They are confronted with having to teach their children about racial inequity and systemic injustices while wanting to safeguard and protect them. For example, in a recent virtual Single Parent Network session, eight single dads talked about how to go for a walk down the street with their Black and Brown children without fear. The hypervigilance for safety coupled with uncertainty has created enormous anxiety and stress.
[center_content]

[/center_content]
Meeting families' needs — big and small 
The intensity that families are living with each day is what the team takes on and holds, all while constantly looking at how to meet families' concrete needs. Within the first week, our Children & Family Services team pivoted their jobs and in addition to addressing challenges with housing, utilities, food access, and nutrition — they also had to become experts in internet access, telehealth, PPEs, and remote education.
But on top of the groceries, personal hygiene items, and supplies, Helena knows that families need to feel connected. "There's no amount of money that can replace some of those things that families are really needing, like a hug or a "hello." And no, we can't give hugs right now, but if they hear your voice or they see you bringing something to them, that brightens up their day. I've done home visits outside with families, just talking to them or going on walks, because families need social connections — especially parents and children who are isolated who don't have a supportive partner or are single parents."
The biggest support that Helena provides to each family is the acknowledgment that this time is hard and we're all in it together. "Families are grateful that we remembered Mother's Day, Father's Day, and excited for graduation gifts. It wasn't in our plan but we have to acknowledge the small things that our families are going through and to highlight "you did this during a pandemic. You are doing amazing." 
Post COVID-19: navigating the future with humility, respect & integrity
The hardships caused by COVID-19, from health impacts, financial insecurity, social isolation, the physical and emotional tolls on families, housing uncertainty, and systemic racial and social injustices, will deeply impact families in the near- and long-term. Uncertainty surrounding daycare and online education will pose challenges for parents struggling to balance the responsibilities of home and work. 
While we can't yet predict what the exact crises or needs will be, our team has shown resilience and innovation in our ability to respond to unexpected challenges. We do know that in the coming months, we will have to become even more flexible and adaptive as we continue to navigate what comes ahead. Whatever the circumstance, we will treat everyone with empathy, humility, and with the love, respect, and common courtesy that every family and individual deserves. 
We are extremely grateful to Helena and Molly for their dedication and commitment that extends far beyond our walls and work-week. We have learned through their leadership to bring integrity to all aspects of our work and intentionality to every individual who comes to Safe & Sound. This deeper connection is what has shown families that they are worthy and deserving, and allowed them to see and make a future for themselves. We will continue to strive to help families feel seen and heard while we advocate for safe children and strong families.
To our Safe & Sound community:
There comes a time when we must acknowledge we are not doing enough. We must do more. We must stand together to call for justice and the end of racial oppression. We are angry, exhausted, and saddened — by systemic racism forcing generations of Americans to live in fear; by racist attacks, police brutality and the recent murders of George Floyd, Breonna Taylor, Ahmaud Arbery, Tony McDade, and far too many before them; the deaths of Mario Woods, Jessica Williams, and far too many others at the hands of San Francisco's own police department.
These are Our Clients. Our Partners. Our Colleagues. Our Families. Us. Racism devastates Our Community. The same structural and institutional racism that enables violence against Black Americans is responsible for higher mortality among Black Americans with COVID-19.
We must confront the systems we have created that yield the results we are seeing — from education to child welfare; from health care to our justice system; from our housing system to our economy. We must talk about the disparities that children of color face: being removed from their families and placed into foster care at a disproportionate rate; being sent to prison at higher rates; unequal access to quality education that leaves too many children behind; inequities in housing, health care, employment; fear of the very people authorized to protect them.
Safe & Sound believes that Black Lives Matter, and therefore, seeks to create a world where all children are safe, all families are strong, and all communities are sound. We seek to end child abuse. To do so, we actively commit to do our part to end racism and all forms of oppression wherever we see it. 
Safe & Sound is a family. We are every race, ethnicity, orientation, gender, generation, and ability. Those of us who have had the luxury of deferring can no longer put off having an authentic and difficult conversation about the realities of systemic racism and inequities permeating our culture and communities. This is a moment to care for one another, create intentional spaces for critical conversations about our own action and inaction, and commit to taking responsibility to combat hate and discrimination. 
This isn't a problem we can solve overnight. But it is time to start, and we are committed to doing the work.
The Safe & Sound team has compiled these resources to help educate and inspire a greater understanding and forge a path forward.
Resources to Watch:
Resources to Listen To:
Resources to Read:
Resources to Read to Support Children in Understanding Race, Racism and Resistance
Opportunities to Give/Donate
Dear Friends,
On this last day of Child Abuse Prevention Month, I hope that you and your family, friends, and colleagues are healthy and well. It's been a month filled with challenges that have not only tested our resilience as individuals, but as communities.
Throughout April, Safe & Sound has shared news about how COVID-19 and shelter-in-place orders have impacted children, families, and communities — from children's education being interrupted, to parents and caregivers experiencing unemployment and income loss, communities struggling to ensure safety for families, and meeting needs with growing scarcity. Any of these challenges alone are stressful, but combined, significantly increase the risk of child abuse or neglect.
When I think about how critical our work is now, I feel deeply concerned and saddened about the health and safety of children and families, the economic vitality of our community, and the inequities that continue to deepen. But I also feel hope, encouraged by the work of Safe & Sound's team and volunteers, our government leaders, our partners in the Family Resource Center (FRC) Alliance, and the incredible support of our donor community.
We have truly come together on behalf of vulnerable children and families. We have so many people to thank for support during this month alone. I welcome you to visit our COVID-19 page for a full list of individuals, families, organizations, and government partners who have joined with us to strengthen families and protect children.
Safe & Sound's programs and services quickly pivoted to address client needs in response to sheltering-in-place. We continue to deliver emergency groceries and supplies to families, conduct weekly check-ins, parenting programs, and classes virtually, and our TALK Line expanded capacity for more calls. In the past weeks alone, we have been partnering with the City & County of San Francisco, Help a Mother Out, the Manus Family Foundation, and the San Francisco Giants to deliver 73,526 diapers, 2,800 pounds of baby formula, 8,000 rolls of toilet paper, 500 shampoos, 690 bars of soap, and 1,200 masks (with more than 4,200 on the way) to the 26 Family Resource Centers and child care centers in our community.
This partnership has been amazing, innovative, and truly hopeful. We are grateful and inspired by everyone who has contributed towards supporting families, both in big ways and small. We thank you for your generosity, which will help families today, tomorrow, and in the weeks and months to come.
While we can't predict how long this crisis will continue, we anticipate that the need for services will exponentially increase as families find themselves with little stability and in-need of significant support when the shelter-in-place orders are lifted.
Safe & Sound's priorities will be to provide stability and recovery to meet the needs of families, no matter how or where. With the Protective Factors as our foundation, our services will focus on:
Intensive Outreach: Needs Assessments, Information & Referrals
Enrollment Support (for both existing and newly-created programs for unemployment and health care)
Access to Housing & Food Pantries
Enhanced Crisis & Mental Health Support
Social Connections & Community Events
Access to Child Development Specialists
This will certainly include the FRC Alliance, which we intend to sustain organizationally through advocacy, research, and raising awareness to increase family access to benefits. Our collaborative efforts will also examine enhancements to infrastructure, disaster preparedness planning, and data collection and evaluation. Our work doesn't stop during a crisis — it is ever more vital.
This year's Child Abuse Prevention Month is coming to a close, but we cannot and will not stop working to strengthen families and protect children. We do this work for the vulnerable and voiceless, and we do this work together. Thank you for your partnership and for being with us as we work on building a community for safe children, strong families, and sound communities.
With gratitude,
Katie
P.S. — Your meaningful donations help struggling families manage during this crisis. Thank you for helping us meet their needs by sharing your support now!
Dear Friends,

In the midst of the COVID-19 crisis, San Francisco's 26 neighborhood-based Family Resource Centers (FRCs) have responded quickly to meet the needs of vulnerable children, youth, and parents in our community. Family Resource Centers offer a range of support services throughout the city including providing case management, concrete needs, counseling, parent education, mentoring, and other activities that strengthen families and improve a child's well-being.

Family Resource Centers are on the front lines every day and are needed now more than ever to support families as they experience job and income losses, struggle to pay rent, navigate food insecurity, and seek alternative sources for basic needs. For Safe & Sound, a needs assessment of our clients showed that 62% of families are concerned about food; 42% are in need of hygiene supplies; 28% lack stable housing; and 37% are experiencing unemployment.
With the added pressures of crowded conditions during shelter-in-place, it is essential that we keep FRCs strong and open for business. Thankfully, Governor Newsom recognizes the need to protect our vulnerable communities and recently allocated emergency funds for Family Resource Centers, foster care services, and domestic violence shelters. This crisis will continue to impact our community and our lives, especially for those already struggling in our city. We can and need to do more.
Safe & Sound leads San Francisco's FRC Alliance — a collaboration of all 26 San Francisco FRCs — to coordinate strategies, advocate to meet the needs of all families, and expand access to supports on behalf of those most vulnerable. Since access does not always mean accessible, the strength of the FRCs is being a trusted resource that is able to meet the unique needs and circumstances of the families they know most closely. 
Working collaboratively is crucial to the success of our systems and safety nets, which is why we are partnering with the City & County of San Francisco, San Francisco Unified School District, and hospitals, to raise awareness about supporting families in crisis. Families are in need, and we are working hard to keep them safe and protected.
In solidarity with all of our FRC Alliance partners, community leaders, volunteers, and dedicated staff, we thank you so much for your continued trust and belief in our work.
With gratitude,
Katie
P.S. With generous support from the Manus Family Foundation, all donations made to Safe & Sound through the end of April will be matched up to $100,000! Double your impact and help us keep families safe during this pandemic.
How You Can Strengthen Families & Protect Children
---
Be Aware. Know what abuse is and how to help a child.
Check-In. If you know families with children, see if they need support and resources or someone to talk to. Suggest that they call the TALK Line at 415-441-KIDS (5437) for support.
Offer Help. Help parents and children you know manage stress and anxiety. Offer to watch kids virtually or in-person, if possible. Offer to drop-off dinner or pick up groceries.
Know the Resources. Know the services available in your community for children and families and how to refer them. You can find information at safeandsound.org/covid-19.
Call CPS or 9-1-1. If you think a child is experiencing physical, emotional, sexual abuse, or exploitation, report to child protective services at 800-856-5553 or call/text 9-1-1 if it is an emergency.
Dear Friends,
Safe & Sound has rapidly adapted our programs and services to respond to the growing and extensive impact this public health crisis has had on families. Our 45+ years of serving our community have taught us that when we strengthen families, we protect children. Now, more than ever, we are focused on supporting families in our community.

Earlier this week, Governor Newsom issued a proclamation declaring April 2020 as "Child Abuse Prevention Month" in the State of California. He reminded us that "[f]inding solutions and keeping our children safe requires input and action from everyone. Right now, reaching out to support a parent who is struggling is a simple action we can all take." 

Extreme stressors on families are leading to significant increases in domestic violence and the potential for a child abuse epidemic in the US. Safe & Sound is helping to strengthen families during this crisis — as we do, every day — by focusing on Five Protective Factors: 
Meeting basic needs with concrete support like deliveries of groceries, hygiene products, and activity packets for children to alleviate stressors for families with limited resources. 
Offering support and bolstering parental resilience through our 24/7 TALK Line because we know that parenting and its challenges happen around the clock, now more than ever.
Providing virtual classes and programs like Single Parent Network, Parenting Young Children, and Playtime Together, to bring parents and caregivers together through social connections and to gain knowledge of parenting and child development and the social and emotional competence of children. 
Our community is facing immense challenges, and we may be for quite some time. While daunting, we are not without hope. There are resources available and steps that we can all take to protect children and families. Our TALK Line is for everyone, please call for support: (415) 441-KIDS (5437). Our classes are also open for enrollment. More details are available on our website.

And by knowing the Five Protective Factors, you can do your part:
Reach Out: Call and check-in with friends, family & neighbors. Physical distance does mean we cannot stay connected.
Support Safe & Sound: Donate, drop off supplies & find ways to volunteer. Help us provide families with essential items.
Raise Awareness: Share our message and resources for Child Abuse Prevention Month & #SafeSoundCommunity. You can forward this email or post to your social media accounts:

Sample Message:

We can build a future without child abuse — one with safe kids, strong families & sound communities. This work doesn't stop during a crisis — in fact, it is ever more vital. #ChildAbusePreventionMonth @safesoundkids #protectkids #strengthenfamilies #endchildabuse #safesoundcommunity
We are in this together and cannot do this work without you. Thank you for your partnership, support, and trust to serve families.
With gratitude,
Katie
P.S. Your meaningful donations sustain our families and we are truly grateful. Thank you for helping us keep families safe during this crisis.
Dear Friends,
April is National Child Abuse Prevention Month. In the few weeks leading up to this month, our collective lives have been turned upside down.
With shelter-in-place, the daily protective eyes of teachers and other mandated reporters are no longer on children. Days after schools and childcare centers closed, child abuse reporting dramatically decreased — this is not good news. It means that children could be at greater risk for abuse and neglect, and their families disconnected from essential supports and services.
Families are having their resiliency tested with the extreme stressors of isolation, job loss, and the difficulty meeting basic family needs like food, diapers, formula, clothing, and medications.
News around the country and locally have reported about the impact of COVID-19 on the increasing risk of child abuse. Read the recent article in the SF Examiner: School closures mean more child abuse is going unreported.
Through this, Safe & Sound remains open as an essential service providing emergency crisis counseling, food & hygiene delivery, 24/7 telephone support, virtual counseling, and parenting education.
A special message from Katie
When I search for glimpses of light and hope in these times, I find them in the families we serve: a mother, struggling with disabilities, so appreciative of the supplies we deliver to her door, or the look of relief from a father who received a Safe & Sound food basket after being unable to find anything on the food bank shelves for his daughter suffering from allergies.
Help Safe & Sound provide families with the support they need to stay strong and keep children safe.
And bookmark our Keeping Families Safe During COVID-19 to stay updated on our work and ways you can continue to help.
Thank you for your commitment to the children and families in our community, and your belief in the work of Safe & Sound.
With gratitude,
Katie
P.S. As this crisis continues, our needs grow exponentially. Thank you for helping us meet these needs by sharing your support now!
Dear Friends,
Safe & Sound is here and working to protect children, strengthen families, and build community during this difficult time. At the top of our mind is the safety of vulnerable children and families.
Even in the best of times, parenting is hard. In a crisis, it can be overwhelming. With the added anxiety of loved ones becoming sick, fear of losing jobs and income, inability to pay rent, and severed community connections — family stress and tension can be at an all-time high. And, indeed, children are more at risk for child abuse and neglect.
I am writing to you today with an urgent request for your support for our families and our community. Safe & Sound is mobilizing every resource we have to provide ongoing and uninterrupted services to every single one of our families. We need your partnership to make this possible!
Here is just a snapshot of our response:
TALK Line, 24-hour Parental Stress Phone Support Line
Emergency Crisis & Case Management Services
Food Pantry and Personal Hygiene Bags Delivery
Virtual Counseling
City-wide Family Resource Centers Partnering
Family Resources Website
We are also collaborating in profound and effective ways with government, schools, and community partners locally and throughout the state to amplify our reach.
Our children need us. And, we need you.
I have never been more proud of our team for their courage and dedication to serve our community. And, I am honored by our families for the trust that they have given to us to show up when and where we are needed most.
While the full impact of this crisis cannot be fully imagined at this time, we know that families and children in our community need our help now. Thank you for always standing with us and for joining with us again today when our community needs us most!
With gratitude,
Katie
P.S. Please check back often to our Keeping Families Safe During COVID-19 page for information online for the latest updates on our services and how you can help.
Under Mayor Breed's Shelter-in-Place Order, our Waller Street Family Support Center has been closed.  However, all of our staff will be working remotely to continue services to families to the maximum extent possible. 
All providers and group facilitators are maintaining close contact with their clients:
Our

Children & Family Services

team will continue to maintain client check-ins via phone and email.

TALK Line

(415-441-KIDS) has been working hard to take phone calls. This is the main service to our families that hasn't changed during this time.

Volunteer trainings

are being conducted through Zoom. 
We know that these are difficult and anxiety-provoking times; an added strain for families already experiencing challenges before the COVID-19 pandemic began. Please know that we are here for you.
With gratitude,
Katie