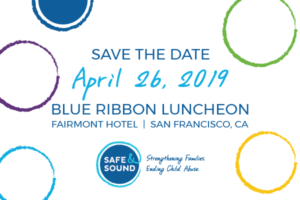 For information about sponsorships, please email luncheon@safeandsound.org.
I giggled last night with my sons – back and forth – we laughed and those moments made my heart swell.  I hope you also experienced individual moments to just exhale and enjoy a smile, the safe feeling when you are held; or when you make eye contact with someone you love. Sitting next to a child, a friend, a partner, and just being together. Those moments of peace, of love, of contentment and connection give us a sense of health and joy. 
Moments. They can be filled with joy and love–or fear and pain. They add up and make a lifetime. Moments matter.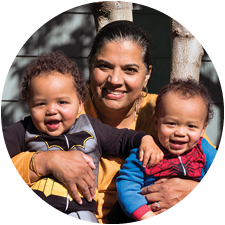 As a mother of twins, a pediatrician, and a board member of Safe & Sound, I'm writing to you today because too many parents and children have too few of these joyful moments. They are isolated and alone. Reliving trauma, they cannot rest or sleep or exhale with relief. Many families live for generations in fear, anger, and pain.
Still worse, there are children right around us, who are experiencing pain right now. As a pediatrician, I know that some of my patients are aching from the trauma of being hurt, alone, or in danger. I treat children who eat in their bedrooms because they are afraid of an adult in the household or who would rather stay outside at night than go home because they are scared. There are children who live in a shelter and have to bathe in a public bathroom because their mother left an abusive relationship to stay safe.
But there are also moments of healing. The first phone call that a frightened mother makes to Safe & Sound's 24-hour parental support line and experiences the relief of being heard. The power of joining other Safe & Sound families for a simple Tuesday Night Dinner, together in safety. The moment when a single dad recognizes his parenting challenges in the eyes of another parent, or when a child runs happily into her father's arms after playing in Safe & Sound's Therapeutic Children's Playroom.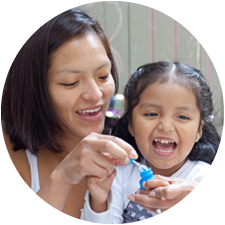 You can help make these moments – and so many like them – happen every day at Safe & Sound. Safe & Sound teaches parents the tools and gives them the confidence that they need to take care of their family and help their children succeed. Within the doors of Safe &  Sound, our caring staff help parents learn – sometimes for the first time – what it means to be treated with respect so they can share that feeling with their children, building on love, connection, and strengths. This strengths-based approach is what makes Safe & Sound unique and transformative for families.
Safe & Sound supports nearly 12,000 parents, children, and community members every year. Its staff provides evidence-based classes, counseling, and support groups for parents and kids, and intensive two-generation support for the whole family. Educators teach kids, parents, and child-serving professionals to keep kids safe. When a child suffers abuse, Safe & Sound leads teams of professionals to provide medical, mental health, legal, and law enforcement support to set the child on a path from trauma to wellness.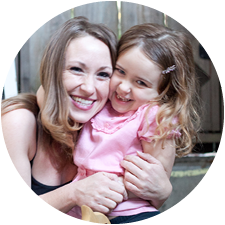 Giving a gift to Safe & Sound can help a child feel safe – not just for a moment, but for a lifetime. Safe & Sound supports the entire family to break the chain of generational trauma—one family at a time—building focus on strengths and community. Your gift will help families build their resilience and make a better future for their children. In this intensive, intentional and evidence-based manner, you can help Safe & Sound end child abuse in two generations.
Please join us by making a gift to Safe & Sound to strengthen families so they can experience moments of laughter around a dinner table, the peace of sleeping comfortably, and the joy of the holiday season. Your contribution will help Safe & Sound ensure that no child must look constantly over their shoulder in fear, ever vigilant of possible violence – and instead can look ahead, toward a bright future, filled with joyful moments.
Thank you for helping Safe & Sound make sure every child grows up safe, protected, and loved.
Very truly yours,
Dr. Aparna Kota
Pediatrician, Mother, Safe & Sound Board Member

Mateo's mother, Elena, came to me worried. Elena didn't know what to do about her 3-year-old son's behavior issues. Being a young single mother, she needed help dealing with the stress of a child who just wouldn't listen.  
"I'm scared when he runs across the street and doesn't listen when I tell him to stop. I'm so scared he's going to get hurt. Then, I get really angry and worry my anger will take over, like my parents did with me." Often, these stressful moments of parenting are what can put a child at risk of abuse. As a Parent & Child Educator at Safe & Sound, I counsel parents every day to help them manage these situations and keep their children safe. 
While I counseled Elena during weekly one-on-one sessions, our therapeutic caregivers supported Mateo's behavior and social-emotional learning in our Children's Playroom. Elena and I talked about simple things like setting expectations, getting physically down to Mateo's level, and making eye contact to help him listen. We also created a reward chart to focus Mateo on his listening skills and behavior. 
Recently, Elena came to me with relief. After six months, Mateo was holding her hand to cross the street and his overall behavior had improved. More importantly, Elena used the skills she learned during our sessions to better react to Mateo and manage her own frustration and stress. She no longer feared what she might do. It was wonderful to hear how much she was learning to help her own family. Equally exciting, she told me that she had started a parenting class at her church to share her new skills with other parents. 
With your support, Safe & Sound will continue to teach parents like Elena the tools that they need to keep their children safe, help kids like Mateo to grow socially and emotionally, and join with other organizations to build a community of care for all families. By joining together to empower families, we can reach our goal to end child abuse in San Francisco in 50 years.  
Please join us by making an impactful gift to our programs that help hundreds of children, families, and communities we serve every day. Together, we will ensure all children are safe, families are strong, and communities are sound. Thank you for partnering to end child abuse and strengthen families.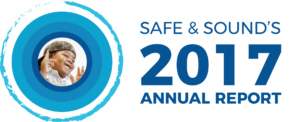 We did a lot last year. We supported vulnerable families, expanded our partnerships, and leveraged new data to advocate for the health, safety, and wellbeing of all children.
Here are three highlights from the report:
By employing proven prevention strategies and programs, the San Francisco community has reduced the rate of child abuse by 67 percent over the past 15 years.
In January 2017, we released a report about the fiscal impact of child abuse in San Francisco, and later in the year expanded our research to unearth the cost for the entire Bay Area. Hint: it's billions of dollars.
After considering 120+ new names, on September 26, 2017, we changed our name from San Francisco Child Abuse Prevention Center to Safe & Sound, and we love it.
We had a fantastic Blue Ribbon Luncheon. Thanks to the 650+ supporters who joined us on April 19 to prevent child abuse and reduce its devastating impact. Together, we raised more than $1 million, a record for Safe & Sound. Below, see pictures from the event below or watch Executive Director Katie Albright's speech.
2018 Luncheon Photos
Katie's Speech
Miembros de la comunidad:
Al igual que muchos de ustedes, estoy indignada con la reciente política de esta administración que separa a los niños de sus padres, de manera forzada y sistemática, en nuestra frontera de los Estados Unidos.
Como hija de un refugiado, que fue cálidamente recibido en este país, esta injusticia me trae lagrimas a los ojos. Como madre, esta crueldad me causa conmoción y horror. Como líder de una organización de apoyo a la niñez, sé que estas separaciones forzadas son nada menos que un acto de maltrato infantil hacia miles de niños aprobado por el gobierno.
Las acciones de nuestro presidente y su administración han provocado traumas de desarrollo severos y complejos, además de un estrés tóxico, que afectará a estos niños durante toda su vida. El impacto en sus padres y cuidadores es devastador. Y, trágicamente, el impacto de las acciones de esta administración lo sufrirán varias generaciones, no solo estos niños y sus familias, sino todo nuestro país.
Por lo general, las familias que vinieron a nuestro país ya se han enfrentado a los efectos del estrés y el trauma en sus países de origen o en ese camino hacia la seguridad y el asilo para lograr una vida mejor. Perpetuar ese trauma entre las personas más vulnerables es simplemente inhumano. Los niños merecen nuestra protección y deben permanecer con sus familias mientras buscan refugio.
Muchas personas han expresado indignación, dolor y un sentimiento de impotencia. Para todos nosotros, personas que hemos dedicado nuestras carreras profesionales a prevenir el maltrato infantil, que somos madres y padres que luchamos contra lo inimaginable, seres humanos que simplemente sabemos que esto está mal, esta situación es devastadora, terrible e inmoral. Comparto su dolor, el enojo y el sentimiento de impotencia que experimentan.
Como un importante defensor de la niñez, Safe & Sound será nuestra voz, en cada lugar y cada vez que podamos, para denunciar esta política y estas acciones. Seremos la voz de los niños cuyas voces han sido silenciadas.
En Safe & Sound, prometemos seguir apoyando y sirviendo a todas las familias en un espacio seguro y afectuoso. Prometemos tratar a todas las familias con la dignidad y humanidad que merecen. Y, prometemos continuar nuestro trabajo para erradicar el maltrato infantil en nuestra comunidad y en nuestro país.
Seamos los encargados de brindar seguridad y civilidad, para todos y cada uno de los niños. #KeepFamiliesTogether (Mantengamos unidas a las familias).
Con profundo respeto y aprecio,
Katie Albright
Fellow Community Members,
Like so many of you, I am outraged by this administration's recent policy to forcibly and systematically separate children from their parents at our U.S. border.
As a daughter of a refugee who was warmly welcomed into this country, this injustice brings tears to my eyes. As a parent, I am heartbroken and shocked at this cruelty. As a leader of a children's advocacy organization, I know that these forced separations are nothing short of government-sanctioned child abuse to thousands of children.
These separations have caused severe, complex developmental trauma and toxic stress that will stay with these children for their lifetimes. The impact on their parents and caregivers is devastating. And, tragically, the impact of this administration's actions will be felt for generations, not only for these children and families but across our country.
Families who have come to our country are often already coping with the effects of stress and trauma in their country of origin or in that journey to safety, to asylum, to a better life. To further perpetuate that trauma to the most vulnerable amongst us is simply inhumane. Children deserve our protection and should remain with their families as they seek refuge.
So many have expressed outrage and pain, and a feeling of helplessness. To all of us—individuals who have devoted our professional careers to preventing child abuse, mothers and fathers who are grappling with the unfathomable, humans who simply know this is wrong—this is devastating, excruciating, and immoral. I share your pain, your anger, and your feeling of helplessness.
As a leading advocate for children, Safe & Sound will use our voice, when and where we can, to denounce this policy and these actions. We will speak out for the children whose voices have been silenced.
At Safe & Sound, we promise to continue to support and serve all families in a safe and loving space. We promise to treat all families with the dignity and humanity to which they are entitled. And, we promise to continue our work to eradicate child abuse from our community and our country.
Let us all be stewards of safety and civility, for each and every child. We must #KeepFamiliesTogether.
With deep respect and appreciation,
Katie Albright
My journey to Safe & Sound has been unorthodox, to say the least. Before Safe & Sound hired me in August of 2017, I worked in the jails for 14 years. My career began in Bay Area juvenile halls conducting writing workshops with incarcerated young people. We would take their writing and create a weekly, in-house publication called The Beat Within. After 10 years, I decided to shift my focus and work with incarcerated parents in the San Francisco County Jail. Through One Family, a program of Community Works West, I was able to teach parenting classes to incarcerated mothers and fathers. On the weekends, we brought their children into the jail for visits, giving incarcerated parents an opportunity to practice what they learned in the parenting class.
Implementing new parenting strategies was often difficult for the parents I worked with because of the palpable shame at not having received such strategies from their own parents. For example, when we tried to encourage positive reinforcement and encouraging behaviors, as opposed to punishing and discouraging behaviors, the incarcerated parents with whom I worked often needed to process feelings of shame and grief about their upbringing before they were able to implement these strategies with their own children.
Nevertheless, the parents I worked with remained willing to grow and exhibited constant progress, using their love for their children as motivation. With persistent courage, these parents were able to break intergenerational cycles of abuse. A father myself, I felt honored to witness such a critical process.
As I began to witness this process more frequently, I often wondered how the lives of the incarcerated parents I worked with may have been different had they felt safe, supported, and loved as children. I also wondered about the evolution of parenting and the culture shift of child-rearing over time. My curiosity became overwhelming, and I began to consider preventative work as a form of relief. If I could join efforts to prevent abuse from happening, then the weight of "what could have been" might dissipate. I suddenly had an urge to shift career paths and focus on the prevention of child abuse. Safe & Sound (formerly the San Francisco Child Abuse Prevention Center) was the perfect fit.
Before working for Safe & Sound, I had no idea about the wide range of efforts necessary to prevent child abuse. Intuitively, prevention (to keep something that has not happened from happening) should require a plethora of approaches in order to be effective. What amazes me most about our work at Safe & Sound is how these many different approaches collaborate effectively towards the common goal of ending child abuse in 50 years.
This became most clear to me on April 3, 2018 at our Child Abuse Prevention Month Kick-Off Rally on the steps of City Hall that I helped to plan. Representatives from the San Francisco Board of Supervisors, the San Francisco Human Services Agency, the San Francisco Unified School District, the Department on the Status of Women, the healthcare profession, family resource centers across San Francisco, and many different community organizations that work with children and families joined together to take a stand against child abuse. There were people from many different departments with many different approaches and perspectives. It was at this moment that I realized my career path had come full circle.
I understood I had dedicated my life to healing wounds and had a front row seat to the resulting trauma of child abuse. I understood that all of these amazing people stood together so that children would not have to experience abuse in the future. What I understood most at this moment was what the other 100 people in attendance at Safe & Sound's rally also understood — the power of prevention. The ripple effects of abuse have such an impact and are so prevalent that healing from such experiences can take generations, even lifetimes. The process of healing from such experiences is definitely worthwhile, and imagine the exponential growth of individuals and the exponential growth of communities that could occur from the absence of child abuse. Please stand with us not just each April but every month as we build the power of prevention and end child abuse in 50 years.
He was a dear friend and constant champion for children.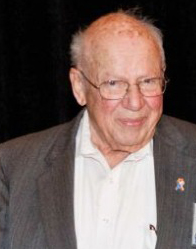 Today, our founder, Dr. Grossman, passed away. It was in 1973 when Dr. Moses Grossman began to create a city safe for all kids.
While Chief of Pediatrics at UCSF / San Francisco General Hospital he saw first-hand the injustices to children, daily. Rather than treat children who have been hurt, he wanted to prevent them from ever feeling the pain of abuse.
In effort to protect these innocent young people, Dr. Grossman founded the San Francisco Child Abuse Council to develop policies and best practices regarding child abuse prevention and response. Long past his tenure at the hospital, Dr. Grossman continued to champion the rights, health, and safety of all children.
An unknowable number of children are safe and healthy thanks to Dr. Grossman's vision, passion, and willingness to actually do something.
We stand on his shoulders, and we are forever grateful. Now, decades later, his legacy and work continues under our new name Safe & Sound.
"…When I arrived at San Francisco General Hospital, in 1960, as chief of the department there, I found that child abuse is pretty prevalent in our society, in San Francisco as elsewhere. There were so many instances of child abuse, and the community resources for managing these cases were poor. There was poor coordination between the health department and or health resources, the social services, the police…So I felt that because we were reporting all these cases it was very important for our department and for me personally to get involved with making sure that after the reporting, something constructive and not destructive was done." – Dr. Grossman